GF Tomlinson has completed extension and refurbishment work at Leicester Royal Infirmary's radiotherapy department.
The larger building can house the latest equipment, alongside comfortable waiting spaces, and pleasant office spaces for staff.
On behalf of the University Hospitals of Leicester NHS Trust, works involved a significant extension to the existing Radiotherapy department in Leicester Royal's Osborne Building to deliver a secure treatment facility as part of the improved health care provision for local people in the region.
The £3.5 million scheme commenced in the summer of 2022 and completed in August this year, with construction comprising two blocks – a radiotherapy bunker, control room and plant room, and an ancillary accommodation block, both of which connect to the existing Osborne Building via link corridors.
The treatment area incorporates high security controls to prevent unauthorised access and provide a safe environment. A specialist force protection engineering consultant was appointed to review the structural design of the room and the building was also reviewed by the Counter Terrorism Security Advisers (CTSA), to ensure compliance.
-- Advertisement --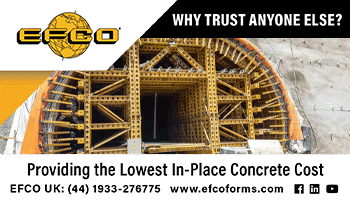 As part of the new building's green credentials, 32 PV panels were installed on the roof to provide power to the facility, alongside air source heat pumps for efficient heating and cooling through the building, generating fewer carbon emissions.
To safely deliver construction works within the fully operational hospital site, a site-specific traffic management plan was implemented to minimise disruption and provide safe access and egress to local residents, hospital visitors and staff. A full-time logistics manager was appointed onsite to assist with the running of the car park, deliveries and to maintain a safe environment. A web-based system was utilised to plan and monitor materials deliveries in order to avoid congestion on the surrounding road networks of the busy hospital site.
Social value was incorporated into the project with the site team instigating several initiatives including over 20 hours of litter picking which took place in the surrounding area to improve the environment and help make for a better experience for hospital visitors. A local supply chain was utilised on site which resulted in 77% of local labour being sourced within a 40-mile radius and 94% of all construction waste was recycled locally.
As part of G F Tomlinson's other social value commitments, the contractor provided work experience for a local student studying at a nearby college to provide them with practical experience on site. Six apprentices were also allocated to the site for a combined total of 113 weeks. During their time at the radiotherapy facility, they had the opportunity to monitor the programme and plan works on site, manage quality assurance, supervise health and safety, and assist with the traffic management within the car park, as well as attending colleges and universities on day release programmes.