A ten storey residential development in Nottingham celebrated a key construction milestone this week, with the steel structures on Queen's Road reaching their highest point.
The 348-apartment Queen's Road scheme, which is located next to Nottingham Train Station, was brought forward by blocwork, a Joint Venture partnership between Network Rail and bloc Group who secured planning permission in 2019.
In 2020, Grainger plc, the UK's largest provider of private rental homes, agreed to acquire the scheme through a forward agreement and add it to its portfolio of UK rental developments, its first in Nottingham. Construction activity started in early 2021, led by GRAHAM.
Reaching up to 10-storeys in height, the development, known as the Barnum, will transform the frontage of Queen's Road adjacent to the train station. Designed by Nottingham-based Franklin Ellis Architects, the Build to Rent scheme will provide a range of high quality homes and resident amenities. Grainger's inhouse management team will set new standards in excellent customer service to residents who will benefit from access to a shared residents lounge, gym, private dining room and roof terrace. At street level, there will be space for small businesses and a café, which will be accessible to the public.
-- Advertisement --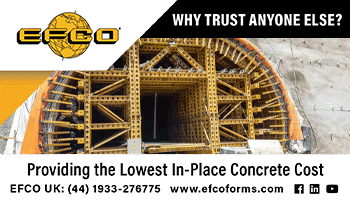 A mix of studio, one-, two-, and three-bedroom apartments will broaden the choice of homes for renters in the city and appeal to a wide range of people looking to live within easy reach of the attractions of Nottingham city centre.
The new public spaces being created will feature attractive paving and tree planting, with widened pavements, enhancing the vista along one of Nottingham's most prominent roads.
To mark the scheme's latest milestone, a Topping Out ceremony was held on site on 17 June. Representatives from Bloc Group, Network Rail, Grainger, GRAHAM, Franklin Ellis Architects, and Walker Sime gathered to celebrate the occasion where they were joined by Cllr Ayoola from Nottingham City Council.
Robin Dobson, Group Property Director, Network Rail said: "As a strategically important site in the UK, we are proud to be partnering with Grainger to deliver much needed high quality homes on this brownfield site. "This is a partnership that focuses on the Government's strategy to accelerate the rollout of housing to drive local economic growth.
"It's a project that demonstrates the pivotal role our railway can play in unlocking sites which deliver growth. We're delivering it through a public and private partnership, an approach we'll be looking to replicate in other towns and cities across the country. It will provide long-lasting benefits for the local community and the region."
The scheme is expected to complete by early summer 2023.