Become a speaker or exhibitor alongside Bentley Systems, in the virtual construction event of the year.
With the Virtual Construction Expo UK just under 4 weeks away, now is the time to sign up.
Construction software giant, Bentley Systems, is set to join the event which will take place on the 4th November, 9am-5pm. Event host, Cassidy Forsythe Ltd, is a long-time Bentley Training Partner and is working alongside the company to create discussions on innovation such as digital twins.
Also joining the event is health and safety leaders, CIP Knowledge. The company provide the latest health and safety manuals to the construction industry and will be there to exhibit.
Highlights of the event will include live talks on Smart Cities and digital practices to improve collaboration on your projects. If you are interested in integrating technology into your construction business, the expo will be a great place to start learning how to do it and why its beneficial.
-- Advertisement --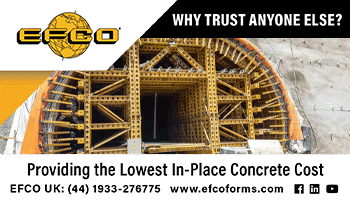 Event founder Martin Young, hopes the expo will join innovators across the sector and shine a spotlight on the technology that is changing the face of construction.
Why online?
Organisers of the event say that keeping the expo online only, makes it more accessible than traditional face to face exhibits. Networking can now happen in your own front room, without travelling across the country.
Exhibiting virtually also means reduced costs for businesses, compared to exhibiting in-person. Virtual booths are set at £250, with sponsorship options maxing out at £1000.
Compare this to the thousands of pounds usually spent on a physical booth, and the difference is vast.
Why attend?
Between sessions, attendees and exhibitors will have access to exclusive networking opportunities in the virtual lounge.
Exhibitors can customise their virtual booth, schedule meetings and network with suppliers or potential leads. Exhibitors will benefit from the chance to raise awareness of their company and become known amongst the right audience.
Attendees will benefit from informative presentations and live Q&A's with thought leaders. The expo will help visitors stay up to date with the latest technology that is helping the construction industry, while giving innovators and creators the exposure they deserve.
Interested? Find out more:
If you have a relevant topic you would like to discuss, there is still availability to become a speaker at the event. Interested in attending or exhibiting? Register at:
10times.com/e13z-s8sf-0dk3
If you'd like to find out more, email
enquiries@cassidyforsythe.com
or call 0191 535 9060.