Specialist real estate development finance provider Maslow Capital has announced the completion of a £55m development facility for Torsion Developments and Khlabros Group's 367 apartment scheme in Leeds, which has already sold 150 units off-plan, prior to construction commencing.
'Phoenix' is the first joint venture between Leeds-based Torsion Developments and Khalbros Group.
The proposed city centre 'Phoenix' scheme, off Saxton Lane involves the demolition of two existing redundant industrial buildings and the construction of two high quality residential blocks, rising to 18 and 22 stories respectively to create an iconic 'gateway' development in a regeneration area of Leeds.
In March 2021, The Office for National Statistics reported that Yorkshire was topping the UK charts for house price increase with 14% year on year growth therefore it is no surprise that the high-end 1, 2 and 3-bedroom apartments at 'Phoenix' have been quick to sell.
The £82m GDV scheme will provide 367 apartments across the two blocks, together with high quality communal facilities, basement car parking, landscaping, public open space and highway works. Residential accommodation will also include a number of specially designed disabled accessible compliant apartments.
The development is being constructed with state-of-the-art methods which includes offsite manufacturing for the Frame and Facades. Using the pre-cast concrete 'Crosswall' system, ensures factory-controlled levels of production of both internal and external panels, delivered to site pre-glazed, and complete with integrated service ducts. This supports a time efficient and quality-controlled form of construction, that meets the full requirements of the fire strategy from a robustness of build perspective using the concrete sandwich panel system with integral non-combustible insulation.
-- Advertisement --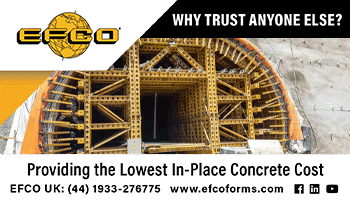 The basement carpark, ground floor and first floor comprise of an in-situ concrete frame. The load from the precast units is transferred via a 1200mm thick first floor slab via the concrete columns down to a 1400mm thick concrete raft foundation.
The blocks, consisting of a combination of elements of red and grey brickwork clad concrete panels together with both smooth and figured white concrete panels, are arranged around a central public open space. This north south pedestrian flow through the site, will connect residents and members of the public with other new developments and local amenities creating a new residential neighbourhood. Directly to the north of the site is the developing cycle super-highway, reinforcing links to the city-centre and surrounding areas.
The Development is to be constructed by Torsion Construction who specialise in high rise, city centre developments. Early engagement of the contractor has ensured that safe working techniques and efficient design solutions could be captured into the project early enough to add real value to the client from a commercial and programme aspect.
Managing Director David Worsley Torsion Developments comments: "We are delighted to bring forward this exceptional high-rise development in the heart of our hometown Leeds. This development has not been straight forward with many challenges presented during the design and planning stages. We thank particularly Leeds City Council for their support and proactive contribution into the project for the last 2 years and the many other stakeholders who contributed to this development gaining planning and commencing onsite. We hope to bring to the city a building that people will be proud to name as their residence and provide a positive addition to the skyline of the city of Leeds."
Tim Coen, Managing Director of North Property Group adds: "Since launching Phoenix, we have witnessed unprecedented uptake from both investors and homeowners, with more than 150 reservations agreed in just 6 months. It is clear the demand for premium quality apartments in central Leeds is at an all-time high."
Emma Burke, Senior Deal Originator at Maslow Capital adds: "Maslow Capital is thrilled to support this highly anticipated scheme which is being brought to life by an experienced team with a proven track record of delivering exemplary projects. Along with the delivery of 367 high specification apartments, this amenity-rich, city centre scheme has everything buyers and investors look for and we are delighted to be involved in its delivery."
Anthony Raud, Associate at Maslow Capital adds: "Torsion is a market leader in delivering excellent accommodation throughout the UK and their partnership with the Khalbros Group, knowledge of the Leeds landscape and understanding of the market, will be invaluable. Maslow are excited to be supporting the development of this well-positioned scheme, along with the modern methods of construction that will be invaluable. Maslow are excited to be supporting the development of this well-positioned scheme, along with the modern methods of construction that will be undertaken."