Construction firm BAM has been appointed to fit-out scheme for HMRC in Manchester.
BAM's CAT B fit-out of the seven-storey state-of-the-art regional centre totals 20,500m2, and spans across all seven floors including the building's roof. With a 49-week construction programme the work is due to complete in Spring 2022.
The fit-out aims to be BREEAM Excellent. It is a full BIM level two scheme.
BAM's work with HMRC follows the successful handing over of the Atlantic Square building in Glasgow, for which BAM was joint-developer and main contractor. BAM Design, which was integral to the Glasgow building, is also engaged on the Manchester UK Government Hub fit-out scheme, as are BAM's specialist services engineering team which is delivering a range of mechanical and electrical services.
-- Advertisement --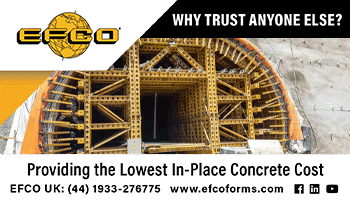 The team is now on site and installing stud partitions and M&E. BAM co-ordinated vehicle access through six gated railway arches owned by Network Rail requiring detailed collaboration with Salford City Council and others, benefitting a nearby extensive residential refurbishment and maintaining a clear route for general traffic and pedestrians.
Colin Cassé, HMRC's Estates Location Programme Director, said: "Three New Bailey will be the home for the HMRC Regional Centre as part of the new UK Government Hub in the North West, and we are looking forward to continuing our long-standing presence in Manchester. When completed, the building will offer bright, modern workspaces that meet the flexible and diverse needs of our colleagues and we are looking forward to it opening next year."
Salford is an important base for BAM, which has self-developed, self-designed and self-built regional headquarters there at Metro. The company is one of the most complete in the built environment sector, designing, building, and managing facilities across schools, leisure centres, offices and hospitals."
BAM is also working on the James Potter Building, a new major trauma and acute receiving centre, for Salford Royal Hospital, and on Manchester's second area, Co-Op Live, for OVG.