Time and date
CONSTRUCTION DIRECTORY
About Jim Budd
Specialists in the conservation and repair of historic glazing and the manufacture of traditional leaded lights and new stained glass.
Clients include National Trust (Croft Castle, Godolphin House, Powis Castle, Chirk Castle, Erddig Hall), Duchy of Cornwall (Highgrove, Harewood Park, Llynywormwood), Churches Conservation Trust and Jersey Heritage Trust (Mont Orgeil Castle). As well as Churches and Historic Biuldings both large and small.


Conservation and Repair
Traditional repair techniques, current conservation practices and modern preventive methods are embraced to ensure the appropriate treatment of each job no matter what the age, style or context of the glass. We aim to maintain the highest possible standards of work at every level whilst adhering to exacting conservation principles.
Historic Plain Glazing
We offer a complete service for the conservation or creation of plain leaded glazing schemes including the specification of hand forged ironmongery.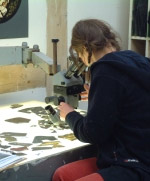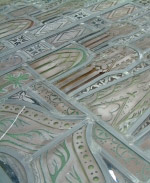 Protective Systems
Stainless steel guards are used to protect against vandalism and to deter intruders. We manufacture wire guards using a traditional 3x 1/2 grid pattern in 12-guage stainless steel. Each individual window opening is templated to allow a neat fit to the stonework. Wire guards are fixed using stainless steel clips and screws. The guards are finished in satin-black powder coating which offers the least visual disturbance to the exterior of the building.
Jim Budd Serves The Following Areas