Time and date
CONSTRUCTION DIRECTORY
About English Oak Frames Ltd
Welcome…
At English Oak Frames Ltd we design and build high quality oak framed buildings. Whatever your preference, we can provide contemporary, traditional or hybrid oak frames.
Our experienced team can help you realise your dream home or design you a stylish summer room for entertaining friends. We also provide a wide range of beautifully crafted outbuildings, from garages with rooms above to garden offices.
About us
Based in rural Oxfordshire, we are a team of experienced designers and craftsmen who began our careers as cabinet makers and fine joiners.
The majority of our staff have been involved in the oak frame industry since the mid-90s and, in our work, show the enthusiasm and pride these beautiful buildings deserve. Our philosophy has always been to provide an excellent quality product and a good customer experience.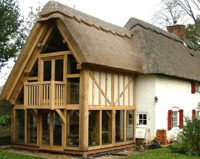 Design
Our experienced designers can provide a wide range of services from initial concept ideas to full, detailed engineered drawings.
We have an extensive knowledge of traditional and contemporary oak framed buildings and can successfully guide our clients through the whole planning process. All of our frames are designed with the latest CAD software, from two dimensional plans to 3D models and rendered visuals.
Home & Garden Offices
I am sitting in our office you built for us in 2008. The sun is streaming through the floor length glass windows. It is -5o outside and we are toasty warm in our garden office.

We asked Paul and his team to provide a 'turn key' build and that is exactly what he did. Paul was brilliant at liaising with all the contractors needed for our build. At every turn Paul was communicative and on schedule. He produced a spreadsheet with details of the different sections of the build broken down, something I have never seen before.

Above all he listened to our needs and met every one of them, I would have no hesitation in recommending this firm. We have worked in conjunction with many contractors over the years and I can safely say that Paul Hicks can deliver a quality build on time.'
Megan Ringrose
Garages
'Many thanks for a good job, we're very pleased with our new building and are looking forward to using it. We are very happy to give a glowing reference and a personal tour to any future clients.'
Mervin and Judith Knight
'I have been using this company for three years on various developments and have always found it a hassle-free experience. The buildings are of an excellent quality and have always been finished on budget and on time.'
A. Durkin
Summer Rooms
'We first sought out Paul Hicks after we spotted a garage he had recently constructed and which matched perfectly the style we had been considering. A few months later we did have a wonderful building of our own and the whole experience had been free from the usual sort of hassle you expect.
Paul Hicks seems to have an innate feel for the client's requirements even when these are not adequately expressed to him. His own attitude is only the very best will do and nothing is too much trouble. I warmly endorse and commend this company to any person or organisation who are considering using their services.'
Simon De'Ath
Garden Architecture
'I have recently had my grade II* listed grain-store barn restored and converted. I approached Paul Hicks and Robert Devetta to quote for the project after they were recommended to me. I already had plans drawn up but they suggested these could be greatly improved and came up with a new scheme, which the conservation officer was very receptive to.
After seven months I have a quality building that has received a lot of attention and sits comfortably with its surroundings. I can recommend this company and already have done so.'
R Tyrrell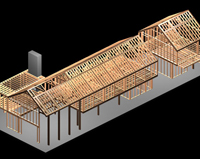 English Oak Frames Ltd Serves The Following Areas
Find English Oak Frames Ltd in