Time and date
CONSTRUCTION DIRECTORY
Zouch Converters Limited
ZOUCH Expandafoam BG1 is a PUR sealing tape impregnated with a fire resistant polymeric dispersion. It is specially designed for joints in buildings up to 100m high, in accordance with DIN 18055. ZOUCH Expandafoam BG1 fulfils the stringent requirements of the DIN 18542 edition 2009. In addition to providing protection against driving rain to a minimum of 600 Pa (equivalent to wind force 11 – Violent Storm) the vapour permeable joint sealing tape also possesses outstanding thermal and acoustic characteristics, as well as allowing for diurnal movement.
Service
Standard sizes available from stock
Private label and / or special labelling available
Non standard lengths and widths available on request
Competent experienced technical support available in the field and by phone
Packaging
Pre-compressed rolls with one side self adhesive (to aid installation) in cardboard cartons with rolls individually shrink wrapped.
Product Advantages
Complies with the DIN 18542 BG 1 and DIN 18055
Reliability through a wider joint application range
Seals against wind, dust, driving rain
Vapour diffusion permeable
Good adhesive properties, to aid application
Permanently elastic with long term life expectancy
Thermal and acoustic insulation
Can be painted over with standard emulsion paints
Compatible with all known standard building materials
Applications in all construction areas and building types are possible
CE-certified (ETA-07/0072)
Constant quality to DIN EN ISO 9001 & DIN standards, with regular controls from independent institutions
Externally supervised by ift Rosenheim: for driving rain and air permeability (a-value)
10 year performance guarantee*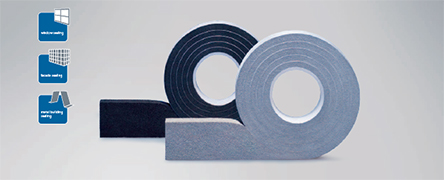 Zouch Converters Limited
14 Regent Street
Nottingham
NG1 5BQ