Time and date
CONSTRUCTION DIRECTORY
A1 Environmental Services Ltd
At least 3500 people in Great Britain die each year from mesothelioma (Cancer caused by asbestos fibres, no known cure) and asbestos related lung cancer as a result of past exposure to asbestos. Annual numbers of deaths are predicted to go on rising into the next decade.
Analyses of mesothelioma deaths indicate that many deaths are due to heavy asbestos exposures in industries like shipbuilding and railway engineering in the past. If current control measures are not adhered to, asbestos removal workers are now potentially at the highest risk, as are workers involved in the refurbishment, repair or maintenance of buildings – such as plumbers, carpenters and electricians, cable laying, telephone lines.
Asbestos still kills
Asbestos was used extensively as a building material in GB from the 1950s through to the mid 1980s. Although some of this material has been removed over the years, there are many thousands of tonnes of asbestos still present in buildings. It is estimated that over half a million non-domestic premises currently have some form of asbestos in them. There is extensive repair and removal work, which will continue for the foreseeable future.
Asbestosis
Asbestosis is defined as lung fibrosis caused by the inhalation of asbestos fibres. Diagnosis is made on the basis of clinical features, X-ray appearances and a history of heavy asbestos exposure. It is generally recognised that heavy asbestos exposures are required in order to produce clinically significant asbestosis within the lifetime of an individual. Current trends therefore still largely reflect the results of heavy exposures in the past.
Asbestos-related lung cancer
There are around 50 to 80 new cases of disablement each year due to asbestos-related lung cancer, although this figure is likely to be a substantial under-estimate.
Epidemiological evidence suggests there are between 1 and 2 cases of asbestos related lung cancer for each mesothelioma.
Asbestos related disease
There are four main diseases associated with inhalation of asbestos fibres. These are asbestosis (a scarring of the lung tissue caused by asbestos), two kinds of cancer (mesothelioma and asbestos related lung cancer), and diffuse pleural thickening (a non-malignant disease affecting the lung lining).
Mesothelioma
The annual number of Mesothelioma deaths has increased from 153 in 1968 to 1633 in 2000, 1860 in 2001, and 1862 in 2002.
The latest projections suggest that the annual total number of mesothelioma deaths in Great Britain is estimated to peak at around 1950 to 2450 deaths some time between 2011 to 2015.
Occupations with the highest risk of mesothelioma for males include: metal plate workers (including shipyard workers), vehicle body builders (including rail vehicles), plumbers and gas fitters, carpenters and electricians.
The industry groups with the highest incidence rates of assessments for mesothelioma in 2001-2003 were construction (including insulation and asbestos removal workers) and extraction, energy and water supply.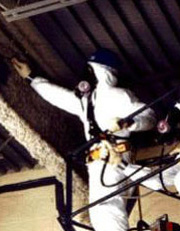 A1 Environmental Services Ltd
4 The Paddock Low Green
Catterick Village
Richmond
DL10 7RZ