Time and date
CONSTRUCTION DIRECTORY
A1 Environmental Services Ltd
Asbestos Removal
A1 has carried out asbestos removal contracts and insulation works from £500 upwards. We own all the latest and up to date equipment and have an extensive fleet of decontamination units, Air Movers and Personal Protective Equipment. We also have all the appropriate policies, so you can sit back and relax in the knowledge that you are dealing with the experts. At least 3500 people in Great Britain die each year from mesothelioma (Cancer caused by asbestos fibres, no known cure) and asbestos related lung cancer as a result of past exposure to asbestos. Annual numbers of deaths are predicted to go on rising into the next decade. Analyses of mesothelioma deaths indicate that many deaths are due to heavy asbestos exposures in industries like shipbuilding and railway engineering in the past. If current control measures are not adhered to, asbestos removal workers are now potentially at the highest risk, as are workers involved in the refurbishment, repair or maintenance of buildings - such as plumbers, carpenters and electricians, cable laying, telephone lines.
Asbestos still kills:
Asbestos was used extensively as a building material in GB from the 1950s through to the mid 1980s. Although some of this material has been removed over the years, there are many thousands of tonnes of asbestos still present in buildings. It is estimated that over half a million non-domestic premises currently have some form of asbestos in them. There is extensive repair and removal work, which will continue for the foreseeable future.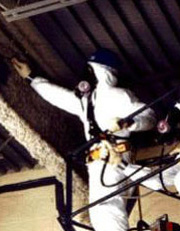 A1 Environmental Services Ltd
4 The Paddock Low Green
Catterick Village
Richmond
DL10 7RZ