Time and date
CONSTRUCTION DIRECTORY
Drilcorp Ltd

Contact Details
Contact
Sharon Muldoon-Dawson
Address
Kinley Hill Farm
Hawthorn
Seaham
SR7 8SW
England UK
About Drilcorp Ltd
Established in 1992, Drilcorp Ltd has developed into one of the UK's leading drilling contractors offering an extensive range of specialist drilling services.
Drilcorp's commitment to providing unsurpassed levels of service is demonstrated by our continuous investment into new and advanced technology. This enables us to work in a highly flexible manner, providing innovative and efficient solutions to any drilling project.
Drilcorp is responsible for designing and developing the T'Mac self-propelled track mounted compressor, capable of crossing difficult terrain and reaching sites normally considered in accessible.
Continuous investment into training and a commitment to Health & Safety, Quality and Environment provides our clients with comfort in the knowledge that Drilcorp's services are delivered in a highly professional manner.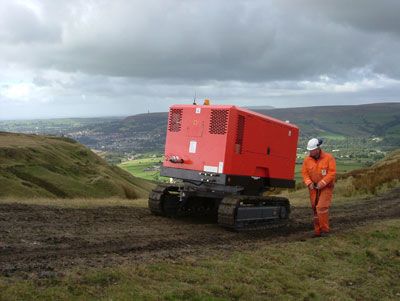 Independent Water Supply
We have significant experience drilling boreholes for water wells to provide independent water supplies for both commercial and domestic projects. Our customers range from water companies, civil engineering construction companies, factories, mineral water suppliers, hospitals through to individual private dwellings. Our end to end service also includes; licensing, design, construction, borehole pump installation, testing, commissioning and repair, and borehole rehabilitation.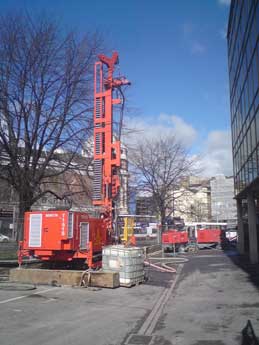 Dewatering Drilling
Drilcorp has extensive experience working as a dewatering specialist, providing ground water level lowering prior to a number of major UK civils projects including the London Jubilee Line Extension. Our overall service includes licensing, design, construction, testing and commissioning.
Environmental Soil Sampling
Drilcorp's innovative ''Sonicbore'' soil sampling drilling rigs provide superior quality undisturbed soil samples for environmental and geotechnical investigation, sampling and reporting. Drilcorp was the first company to introduce Sonicbore technology to the UK.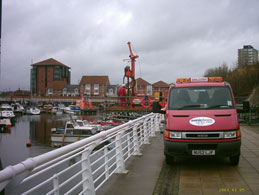 Specialist Drilling Services
Drilcorp provides a range of more specialised services including; borehole CCTV surveying, verticality testing, acidising and Hydrofracturing – to further increase the yield of water wells.
Geothermal Climate Control
Drilcorp has a long track record as a specialist drilling contractor of completing major geothermal drilling projects throughout the UK, installing and commissioning both open and closed loop systems using renewable groundsource energy heat pumps.
Drilcorp Ltd Serves The Following Areas