Time and date
CONSTRUCTION DIRECTORY
MC Fire Protection

Contact Details
Address
Unit B6, Telford Road
Bicester
Oxfordshire
OX26 4LD
England
About MC Fire Protection
MC Fire Protection provides a full range of fire safety products and services. Based in Bicester, we are ideally located, to provide prompt service to all areas. We have an enviable customer retention rate and always provide first class service and excellent value to all new and established clients.
MC Fire Protection is fully equipped to supply and install all fire equipment to your premises. We offer a prompt, friendly service, take great pride in our appearance, professionalism and finished work. Repeat business is very important to us, and we work to a standard that gets us invited back. All work is performed to conform to current British and European standards, and we will update you regularly on any changes in legislation that will affect you. We would be pleased to discuss the maintenance of new or existing fire extinguishers and alarm systems that you have, and offer a quotation to service your equipment and to set up a maintenance contract on an annual or twice per year basis. For budgeting stability, ask us about our All in Service Agreement.
We have the tools, facilities and training to service any types and makes of fire extinguisher, and we are happy to discuss with you how to terminate any maintenance contracts you may already have. Our existing customers are satisfied that we do not have hidden costs within our service schedules, and that even though our standards are high, our prices are very competitive.
Call us now to discuss your maintenance requirements. We will always give you :
Pleasant service by using friendly, honest, fully trained, professional technicians
Value for money and genuine advice
Top quality equipment and spare parts
Peace of mind that your Fire Safety equipment will work when you need it
Certificates of Inspection on completion of any service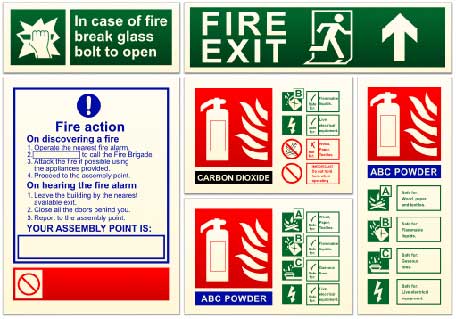 We are experts and will help you to meet your legal and moral obligations. We are happy to visit your site to meet you and discuss your company requirements. MCFP supply and install fire safety signs covering emergency escape routes, location and identification of fire fighting equipment, fire action instructions and other important signs expressing prohibition, warnings and mandatory information.
Products
Water Fire Extinguishers
Water extinguishers are suitable for class A fires caused by the combustion of solid materials, mainly of organic origin, such as: Wood, paper, straw, textiles, coal etc. These extinguishers are available as either full jet or super-spray versions. The 6 litre spray version has passed electrical conductivity tests although should not be used on electrical hazards.
Powder Fire Extinguishers
Dry powder fire extinguishers are suitable for mixed fire risk environments and are especially suited for flammable liquids and fires involving flammable gases such as methane, propane, hydrogen, natural gas etc. This range offers a combination of fire performance and ease of service.
Foam Fire Extinguishers
Foam extinguishers are ideal where both A & B class fire risks exist. AFFF (Aqueous Film Forming Foam) is particularly suited to class B fires caused by the combustion of materials that liquefy such as petrol, oils, fats, paints, tar etc. This equipment has passed the 35kv electrical conductivity test.
CO2 Fire Extinguishers
Carbon dioxide extinguishers are suitable for class B risks involving flammable liquids and for electrical hazards. CO2 is harmless to electrical equipment and is ideal for modern offices, electrical risks, and fires caused by the combustion of liquids such as: Oils, fats, solvents etc. The 5 kg size has a 70 B fire rating.
MC Fire Protection Serves The Following Areas