Time and date
CONSTRUCTION DIRECTORY
A J Binns Ltd

Contact Details
Address
Harvest House
Cranborne Road
Potters Bar
Hertfordshire
EN6 3JF
England UK
About A J Binns Ltd
AJ Binns Limited was founded in 1937, when John Binns set up business in Great Marlborough Street in Central London. As the demand for Binns products grew, the company was divided into two sections to accommodate the specialist knowledge required for the diversity of its product range. AJ Binns Limited catered for the growth in the sports and leisure industry. Binns Fencing Limited grew to become a market leader in high security fencing systems. When Julian Binns joined the company in 1970, having trained as an industrial designer, he commissioned Kenneth Grange to design a new range of products based on good looks, high quality materials and the flexibility to suit a wide range of applications.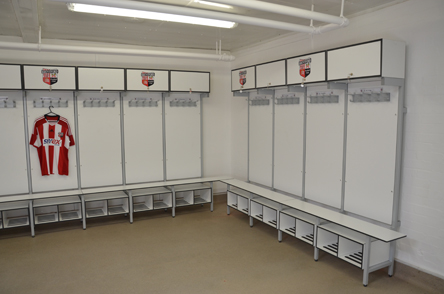 The range was given the name Variset® and won a Design Council Award in 1972. From the original multiple hook system, the range has developed to include many more products, with design quality always the top priority. In 1997 the company moved to its present location in Potters Bar. Since then, the Reverse hook system, Coin operated cable lock and, most recently, the Hookamals have been introduced.
Hooks
Another of our signature range of products, is our unique range of coat hooks. All coat hooks are subject to our rigorous testing regime. Over the years many other companies have tried to copy them but these are the original Design Council Award winning hooks. The wall hooks have a 5 Year Guarantee but they literally last a lifetime if used properly.
Changing Room Benches
AJ Binns offers three ranges of bench seating, all backed by our five-year guarantee. Whatever your budget or requirements, browse our range to find the perfect changing room benches to match. Just click on the photographs below to see our products.
Toilet Cubicles
There are four main categories of cubicles that we offer, all of which are designed to be tough, durable and functional. With 75 years of experience in manufacturing high quality equipment, we understand that our customers are looking for reliable products, which is why all of our products come with a full 5 year guarantee. None of the products would be considered a low budget option in the short-term but with no maintenance costs associated with them they end up far less expensive over five years.
Hangers
There are two main ranges of hangers the NV and VZ range. The NV Range features sliding hooks and hangers that are actually integrated into the shelf where the VZ range is slightly more robust but less flexible and takes up more space.
A J Binns Ltd Serves The Following Areas