Time and date
CONSTRUCTION DIRECTORY
HMS Decorative Surfacing Limited

Contact Details
Address
Unit 1 Evergreen Field Farm
Pincet Lane
North Kilworth
Leicestershire
LE17 6NE
England UK
About HMS Decorative Surfacing Limited
HMS Decorative Surfacing Ltd
offers a wide range of specialist surface treatments with high performance products with the onus on long term durability.
We speciallise in:
Decra-Stone - Non permeable resin bonded gravel
Decra-Set - Permeable resin bound gravel
Treepit - Permeable paving for surrounding trees
Imprinted Surfacing - A modern alternative to Blocks
Safelane - surface overlay with de-icing technology
High Friction Surfacing - Hot & Cold Applied Type 1
Flexi-Joint - Highways Agency Approved Asphaltic Plug Joint
Flexi-Band & Flexi-Seal - Joint and Crack Sealing
Coloured Surfacing - High Friction type 1 & Natural Aggregates
HMS Decra-Stone
decorative surfacing treatment is a non permeable resin bonded gravel. It is a process consisting of specially selected natural aggregates bonded with high performance resins to produce a hardwearing, lasting decorative
finish. It is suitable for use on driveways, paths, courtyards, walkways, parkways and roads.
HMS Decra-Set
is a permeable resin bound gravel. It is a decorative surfacing process consisting of specially selected natural, coloured or recycled aggregates bound with high performance resins to produce a lasting smooth hardwearing decorative finish.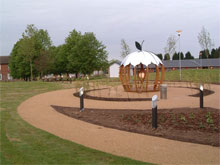 HMS Tree pit
is a moisture permeable, porous surface treatment for surrounding trees. It comprises a decorative surfacing process designed to provide an open textured, highly porous surface suitable for application up to the tree base, whilst still allowing water to naturally filter through the Tree Pit to the roots.
HMS Imprinted Surfacing
is a hot applied resin based compound. It is a modern alternative to Blocks, Slabs, and Cobbles. It comprised of a synthetic (non-bituminous) asphalt based compound, incorporating granite aggregate and graded rubber granules.
Safelane™ from Safecote
, installed by HMS Decorative Surfacing Limited as the leading UK Installer, is a specialist surface overlay system comprising of 1-3mm or 6-10mm aggregate and is applied using an epoxy resin.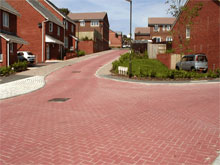 High Friction Surfacing
was first trialed in the UK in the 1970's for the Greater London Council. Formerly and more commonly known as 'Anti-skid' surfacing, an epoxy resin process dressed with calcined bauxite aggregate was the first on the market.
Bridge Expansion Joints – Flexi-Joint
Expansion Joints for bridges and other structure from HMS Decorative Surfacing Ltd.
Flexi-Range - Joint & Crack Treatments
Our "Flexi-Range" systems include:
Flexi-Seal - Saw Cut/Seal
Flexi-Band - Fibre Reinforced Band
Flexi-Screed - Fibre Reinforced Inlaid/Recess Repair
Flexi-Joint - Full Depth Repair (Highway Agency Approved System)
Coloured Surfacing
Surfacing systems for use in all traffic and pedestrian areas where colour is the key.
HMS Decorative Surfacing Limited Serves The Following Areas