Time and date
CONSTRUCTION DIRECTORY
Budge Formwork Ltd

Contact Details
Address
Craigie House
Midclyth
Lybster Caithness
KW3 6BA
Scotland
About Budge Formwork Ltd
Budge Formwork Ltd was formed in 2000. Prior to being incorporated, Budge Formwork operated for 15 years on a self employed basis.
John Budge is the managing director, and belongs to Caithness. He trained as a joiner in Ayrshire, and worked as a Foreman Formwork Joiner in Dunoon Argyle on 3 concrete oil rigs which were built in the 1970s. He was also a shuttering joiner on the highest Chimney in Scotland at Inverkip Power Station.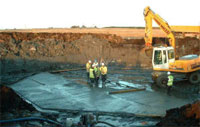 Based in Caithness in the far north of Scotland, he has worked on contracts all over Scotland.
A lot of Budge Formwork's work was in Caithness at the Dounreay nuclear site, and also with local contractors who had not been able to compete with the larger companies before, due to a lack of specialist Formwork in the area. We have also built slatted cattle courts and silage pits and sheds for the local farming community.
History
Projects include over 200 hundred wind farm bases


Wind farms in Caithness / Sutherland/ Campbeltown/ Edinburgh/ Peebles / Oban / Aberdeenshire


Dounreay projects


Hunterston Power Station Supply of joiners


Rosyth Supply of joiners
We work for many large multinational companies as well as providing services to our local smaller client base.
About Us
When Budge Formwork Ltd was formed our work started expanding to south and central belt Scotland. We have a good reputation for the design of shutters to client specifications. We also offer steel fixing to an excellent standard.
All our workforce are experienced in the placement, compaction and after care requirements of pouring concrete.
Our workforce is trained to a high standard and have the relevant CSCS/CPCS qualifications needed operate safely in the Construction Industry. They also have Disclosure Scotland clearance.
We can also supply Joiners and Steel Fixers for labour only contracts.
Most of our work is gained through word of mouth. We are asked to tender due to our successful work history and our approach to producing a quality service.
We have always worked to clients' required timescales and programme constraints.
We are pleased to have supplied the skills in Shuttering and Steel Fixing needed for the Rosyth Dockyard Upgrade Project. We also supplied joiners through our Agency.
Although we are based in the North of Scotland we have a well respected workforce on contracts all over Scotland.
All Civil Works Undertaken / Shutters Designed to Specification /experience in all types of System Shutters.
Previous works includes work for all Major Civil Engineering Companies:
- Wind farm Bases
- Nuclear Industry
- Hunterston
- Dounreay
- Scottish Water
- Highland Regional Council- various private clients.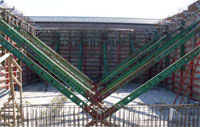 We are pleased to have worked with Bam Nuttal on various projects over the last 10 Years.
DOUNREAY NUCLEAR REACTOR
We worked with Bam Nuttal at the Nuclear site in Dounreay Caithness.
Our part was to construct a raised platform around the Shaft to allow for drilling and grouting.
For this project we designed the formwork in house.
FOYERS TUNNEL
At Foyers we supplied Joiners and Steel Fixers for realigning the collapsed tunnel.
The shutters used on this project were custom made and supplied by Bam Nuttal.
ROSYTH DOCKYARD UPGRADE
Over the last 2 years we have supplied over 30 Joiners and Steel Fixers to this project.
This project involved working at height and to a very high specification.
All aspects of this project were complex, and due to our good relationship with Bam Nuttal we were able to maintain the quality needed and complete on time.
BUDGE FORMWORK LTD
Over the past 20 years we have worked with many Multinational Contractors, although based in the North of Scotland we have work all over Scotland. Our Director Mr John Budge and our highly trained staff are well respected in the construction Industry.
Budge Formwork Ltd Serves The Following Areas
Find Budge Formwork Ltd in