Time and date
CONSTRUCTION DIRECTORY
Flood Expo 2019

Contact Details
Address
Birmingham NEC Arena
11th - 12th September 2019
About Flood Expo 2019

Wednesday 11th 10am - 5pm
Thursday 12th 10am - 5pm
September 2019
NEC, BIRMINGHAM
The Flood Expo is the world's largest exhibition and conference designed to help the most progressive flood professionals and property owners discover the latest innovative products, services and strategies that transform the way flooding is predicted, prevented, and managed.
NETWORKING AT THE FLOOD EXPO
Flood Expo is renowned for providing unparalleled networking opportunities to flood industry innovators, leaders, and professionals, and this year's event offers visitors the greatest opportunity yet to make new connections throughout the industry.
Flood Expo 2019 has more space dedicated to networking than ever before; areas that are specifically designed for all professionals and business owners working in flood defence, prevention and prediction to interact and build relationships in the most comfortable environments possible.
The show's networking area provides a unique opportunity for visitors to interact and learn with members and experts from the most prominent and active organisations in the UK's flood defence operation
THE GRAVITAS NETWORKING AREA 2018
Gravitas award winning products such as the HydroSack & HydroSnake – have been used by thousands of individuals and organisations worldwide.
Gravitas will be show casing their most recent innovation for the UK, Flex MSE® Vegetated Wall System, designed for retaining walls, flood prevention, riverbank & coastline repair and soil erosion.
Gravitas products are consistently being used or specified by the Environment Agency, Fire & Rescue Services & Local Authorities on a national level, as well as being available to private and commercial users via a dedicated supply chain.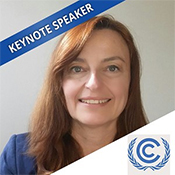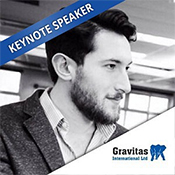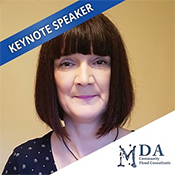 Ina Lambert - United Nations: UNFCCC: An international perspective on climate change adaptation and flood risk


Daniel M. Rosenberg - Gravitas International: Green Infrastructure, River Restoration & Flood Protection - Flex MSE® Vegetated Wall System


Mary Dhonau OBE - Mary Dhonau Associates: The Cumbrian Flood Resilient Showcase Project - the final story


Simon Crowther - Flood Protection Solutions Ltd: Is the Flood Protection Industry Heading in the Right Direction?


Dr Crystal Moore - Flood Forecasting Centre: Forecasting for severe impacts to enable effective decision making


John O'Gara, Specification Manager - Marshalls CPM: Flood protection that's not a blot on the landscape


Richard Coutts - Baca Architects: '10 years: 10 steps forward'
Take a look at our Timetable to keep up to date with our events, and have a look at our Exhibitors List

EXHIBITING AT THE SHOW
Exhibiting is one of the most efficient, effective and successful marketing activities available to you. Having a presence at The Flood Expo will give you exposure to an audience of over 2,500 professionals working in flood defence, prevention, resilience and risk assessment as well as established names and the opportunity to talk to these highly targeted visitors on a face-to-face basis.
We pride ourselves on only targeting the buyers, major influencers and key decision makers in your market. Our visitor matrix helps identify these individuals so we can personally invite them on your behalf. Visitors from 2019 included Managing Directors, CEOs, Technical Directors, Flood Risk Managers, Senior Drainage Engineers, Project Managers, SuDs, Flood and Coastal Risk Managers, Site Managers, Procurement Managers, Principle Engineers, Town Planners, and more.
WHY EXHIBIT?
There are several reasons why exhibiting at the Flood Expo 2019 is vital for the growth of your business. Here is our pick of the most important reasons why you need to claim one of the Flood Expo stands before it's too late:
Reason 1:
Over 5,000 carefully targeted visitors to meet across the two days
Reason 2:
Reach hundreds of thousands with specialist marketing teams
Reason 3:
Steal ground on your competitors
Reason 4:
Life changing innovations & partnerships at your fingertips
Reason 5:
Those who don't attend will be left behind!
SPONSORSHIP AT FLOOD EXPO
Sponsoring FLOOD EXPO is an incredible way to market your brand to the country's top professionals working in flood prediction, prevention, management, and rescue for some of the world's largest and most relied-upon organisations. We can provide you with an extensive and diverse variety of sponsorship ideas that will showcase your branding to some of the industry's leading ideas.
Twitter Feed

Facebook Feed
Flood Expo 2019 Serves The Following Areas