Time and date
CONSTRUCTION DIRECTORY
Acoustic Pods

Contact Details
Address
12th Floor, The Broadgate Tower
20 Primrose Street
London
EC2A 2EW
About Acoustic Pods
Acoustic Pods
Noise can be a big problem in the modern open plan office causing large numbers of staff to become distracted, unproductive, stressed and in worst cases actually ill! We are experts in addressing noise issues and have developed proven products and technology to help alleviate these issues.
Voices and are one of the key distractions for staff since our ears are attuned to focus on those frequencies as some of the most important to us. Therefore in an office where conversations are heard over distances the disturbance to others is most dramatic. Our ranges of acoustic pods and other acoustic improvement products that include acoustic wall panels and acoustic baffles can help improve the experiences of staff to lower their disturbance and stress responses. The productivity improvement in a more sound harmonised acoustic office is obvious improving staff well-being, and retention as well as offering a "pull factor" for recruitment.
Advantages of acoustic pods
Use pods instead of building rooms (no planning permission)
Acoustic foam construction for noise reduction
Acoustic pods can be moved and relocated
No building works involved, simple installation
Huge range of styles and colours available
Acoustic pods have a range of uses including personal working or meeting collaborations
Helps overcome noise problems in office environments
Extensive range of sizes, designs and colours for our acoustic pods
Incorporated power, lighting and data
Acoustic pods in a range of prices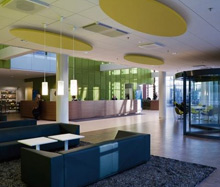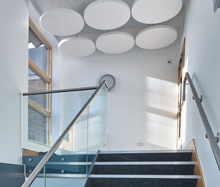 Products
Acoustic products made to address noise issues in all types of workplaces to help commercial, education or industry clients
An extensive range of acoustic products are manufactured to improve the acoustic environment in which you work. Our design and acoustician teams can support your project to help overcome noise issues in demanding situations.
Acoustic Pods
Acoustic Wall Panels
Acoustic Art
Acoustic Baffles
Acoustic Rafts
Noise Masking Technology
Acoustic Furniture
Acoustic Ceilings
Acoustic Partitions
Acoustic Blinds
Acoustic Flooring
Services
AcousticPods.co.uk provides acoustic Planning, acoustic surveys, manufacture of acoustic elements and design of acoustic solutions.
Our acoustic services are available throughout the UK:
Acoustic Pods
Best Option Acoustic Solutions
Acoustic Products
Best Value Acoustic Options
Acoustic Surveys
Sound Control Technology
Acoustic Analysis of Offices
Acoustic Baffles for Sound Reduction
Acoustic Wall Panels
Noise Masking Technology
Acoustic Consultancy by Qualified Acousticians
Acoustic Space Plans
Installations of Acoustic Products
Acoustic Items
Acoustic Reports
Incorporating Latest Development into Our Product Range
Reviews & Testimonials for Acoustic Pods

September 09, 2015
Very informative website for acoustic pods and acoustic products. Good for design ideas and helpful guidance
Acoustic Pods.

5

out of

5

based on

1

ratings.
Acoustic Pods Serves The Following Areas