Time and date
CONSTRUCTION DIRECTORY
National Federation Of Builders

Contact Details
Fax
Regional Customer Service 03450578163
Address
Spectrum House
Suite AF29
Gatwick
West Sussex
RH6 0LG
About National Federation Of Builders
The National Federation of Builders (NFB) is the construction industry's longest established trade association and has grown in stature since its origins in the late 19th century. The federation represents companies involved in the building and construction industry in England and Wales.
Around 1000 companies, ranging from sole traders/proprietors, through to house builders and general contractors, are members They range in size from smaller organisations, turning over under £500,000, to our larger members who turnover up to £500m.
Today, the NFB is a modern, proactive organisation that has steadily built up a reputation for sound judgement, high media profile and a robust approach to protecting members' interests. Members often list winning work as their number one interest! As well as providing practical support by identifying tender opportunities and offering tender process consultancy, the NFB takes a broader view and can assist with business management on a strategic level which is vital to long-term success.
A dedicated business and skills unit was created to offer business improvement initiatives. Talk of skills shortage is rife in the industry and the NFB campaigns to support skills development and offers a number of accessible courses. NFB Business & Skills has an educational programme for schools, aimed at enhancing perception and encouraging interest in the industry. BIM has been high on the agenda for some time and a number of subsidised programmes are available to NFB members to assist them on their journey to BIM readiness.
Over the years, the NFB has built up partnerships with other organisations who can add value for its members. A collaborative approach is favoured and representatives can often be found around the table at crucial meetings representing members and helping to shape the future of the industry. Suppliers to the industry also work with the NFB as the collective buying power of members is transformed into favourable terms for the provision of services or equipment.
In addition, the NFB vigorously represent the interests of members and the industry generally by lobbying both UK and European governments, regional assemblies and related non-governmental agencies. In order to support long-term growth in the industry, the NFB is calling for the next government to make new housebuilding, smarter public procurement and new investment in the industry key priorities. Policy Advisors create weekly and monthly briefings to keep members abreast of important changes.
Advice lines exist to provide instant expertise for members on legal, employment, financial services, taxation, procurement, health and safety, environmental, technical, training and government funding issues.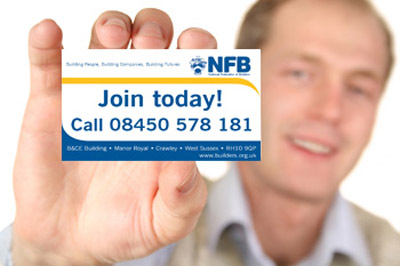 The NFB also offers a number of supplementary resources such as a full calendar of educational events, specialist interest groups, networking opportunities, newsletters and a tri-annual magazine.
Operations are divided into six distinct regions of England and an Area Manager works closely with members on a local level within the designated region. Wales also has a dedicated Area Manager. Headquarter functions are performed across three offices in Gatwick, Preston and Burton-on-Trent.
Further details are available at
www.builders.org.uk
.
National Federation Of Builders Serves The Following Areas
Find National Federation Of Builders in