Time and date
CONSTRUCTION DIRECTORY
Dyer Environmental Controls

Contact Details
Address
Unit 10 Lawnhurst Trading Estate
Cheadle Heath
Stockport
SK3 0SD
About Dyer Environmental Controls
Smoke ventilation and natural ventilation for every kind of building
As modern architecture increasingly incorporates extensive glazing you're faced with a building that becomes harder and harder to ventilate efficiently. While convention calls for a large-scale installation of heating and air-conditioning, our solutions provide incredible results at a fraction of the price, utilising the natural properties of air pressure and temperature to create smart airflow as well as exhaust unwanted and stale air.
This form of passive ventilation dramatically reduces the installation requirements and will allow for substantial energy savings from day one, and can be installed as part of a new build or retro-fitted to any building of any age.
To complement the movement of fresh air through your building our solutions also include smoke ventilation systems that use the smoke's own heat to draw it up and out of your building effectively, clearing escape routes and reducing the risk of death from toxic fumes or smoke inhalation. Click through our site for more information on our range of ventilation systems, or contact us to speak to one of our specialists.
Products
Our range of ventilation systems provides effective solutions for every setting. Dyer service is equally versatile whether you want products-only or full consultancy support.
Innovators for the future
Dyer is behind some of the most exciting innovations in ventilation including breakthrough systems that combine advanced performance with exceptional energy efficiency.
Rising to environmental challenges is central to our research and development drive. We partner with technical experts at Salford University to pioneer new eco-friendly products that deliver optimum benefits at a fraction of the installation and running costs of traditional systems.

Nationwide service
Dyer headquarters in Cheadle Heath, Stockport, Cheshire is home to our planning, installation, maintenance and technical support teams.
From here, we look after customers all over the UK and across many sectors including residential, educational, transport, retail, high security and medical.
We also specialize in opening systems for the home.
Contact us by calling +44 (0)161 491 4840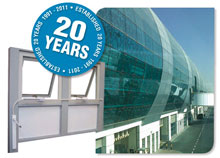 Click here
to visit our LinkedIn
Gallery
Click to close
Team
| | | | |
| --- | --- | --- | --- |
| Name | Role | Email | Telephone |
| Servicing Team | Service & Maintenance | servicing@dyerenvironmental.co.uk | 0161 491 4840 (option 5) |
| Estimating Team | Sales & Estimating | enquiry@dyerenvironmental.co.uk | 0161 491 4840 (option 1) |
Dyer Environmental Controls Serves The Following Areas
Find Dyer Environmental Controls in
Dyer Environmental Controls General Description
Natural and smoke ventilation has been our obsession for decades. Our appetite for innovation has taken us a long way. www.dyerenvironmental.co.uk