Time and date
CONSTRUCTION DIRECTORY
K A M Construction

Contact Details
Contact
Mr Kevin Moriarty
Address
Moorknoll House
Ross Road weedon road ind est
Northampton
Northamptonshire
NN5 5AX
England uk
About K A M Construction
Welcome to KAM Construction. We're at your service for any and all aspects of construction and building, whether you're a major commercial business or a householder seeking to improve their home... or anything in between.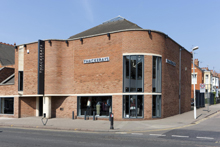 We place the highest value on understanding what our customers want and finding ways to meet their needs, whatever the size or scope of the project. Whether you are a seasoned construction professional who wants to discuss technical detail and specialist techniques, or a home-owner with no experience of building work, we can speak your language.
We pride ourselves on our responsiveness: our business has grown steadily through the last two decades and expanded into new areas, driven by repeat business, requests and recommendations from our many satisfied customers. As a result, we have expanded our workforce and skills to offer a comprehensive range of construction services. You'll find detailed information about them all on the pages of our website.
We look forward to working with you. Please contact us to discuss your project - we'll be happy to talk it through and tell you how we could help, with no obligation.
Domestic construction
Alterations
Bespoke Joinery
New Builds
Planning
Renovations & Extensions
Creating a home that suits your lifestyle and family is a really important undertaking. You will have spent a lot of time thinking about the end result you'd like and how you can make your funds go the furthest. When you engage us to work on your building or household project, you can be confident that we will approach it with care and thoroughness, reflecting how fundamental it is to you and your family.
Whether you live in or rent out your property, it's vital that the finished work is safe and durable, to meet all current building standards. Our reputation rests on high quality, well finished work that will meet the needs of the household for years to come.
Commercial Construction
Commercial Builds
Planning & Consultancy
Shop Fitting
Special Projects
From offices to factories, shops to leisure facilities, storage to transport facilities, commercial buildings usually play host to high volumes of people and vehicles and provide specialised features and functions. Our approach is always to listen carefully first to ensure we understand your individual needs.
We've worked with landlords and business owners in many sectors to construct the perfect space where their organisation can operate effectively and efficiently, taking into account the needs of workers and customers as well as site constraints, tight budgets and planning considerations. We'll go out of our way to understand how your business or target tenants need to work to be successful and we'll draw on our knowledge of best practice and the latest practical solutions to create cost effective and highly functional commercial buildings.

Utilities
Civil Projects
Drainworks
Ground Works
Railway Maintenance
Road Construction
Our directors, managers and site workers have decades of experience of infrastructure and transport projects. We understand the pressures of working in the public eye, often spending public money, then delivering finished constructions that many businesses and members of the public rely on.
We can work with you from the outset of your project as a main or sub-contractor, providing advice, consultancy and project management through to individual skills as part of the team you've chosen.

Fabrication
Design & Implementation
Metal Fabrication
Structural steelwork
We work with commercial and domestic customers to produce bespoke components, from small one-off commissions to major structural engineering steelworks. We can supply and fit, delivering a full end-to-end service, or supply only, providing you with all the necessary structural calculations to fit the components yourself.
Our expertise in design is crucial. We listen to your requirements and create an accurate and detailed design for the finished product. We can work with you to come up with a suitable design from your specifications or manufacture to existing original concept work.
K A M Construction Serves The Following Areas