Time and date
CONSTRUCTION DIRECTORY
About INTER TLC LTD
INTER TLC is a group of companies located in Sweden (INTER TLC AB, Sales Office) and the United Kingdom (INTER TLC LTD), with our sales office and manufacturing plant in Poland.
Domain of expertise: designing, manufacturing and installing commercial, industrial and offshore steel staircases as well as handrails systems, open mesh flooring, grating, EPS (Edge Protective System) barriers, site hoarding, temporary fencing, automated gates and fencing solutions.
All our products meet the requirements of the latest European regulation 305/2011 (CPR) and have CE marking (for construction products). The company is TÜV accredited (production control system complies with PN-EN1090).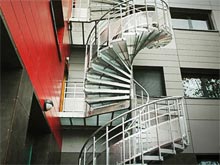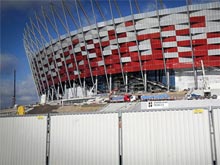 Some of our latest projects include:
IKEA Sweden: exterior emergency staircases
Amazon, fulfilment centres in Poland: exterior emergency staircases
Poland, Warsaw's underground system: barriers and site hoardings
Poland Warsaw National Football Stadium: site hoardings
We work with some of world's largest construction companies and now, we
would like to work with you.
Services
fire escapes,
fire escape staircases,
metal staircases,
fencing manufacturers,
handrails,
fall protection,
secondary steelwork,
premises fencing
fire escape
construction fencing
c2 barriers
c2 medium barriers
eps systems
Design & manufacture and installation of metal fabricated products UK and Europe wide.
The company has its own design office and stock of modern machines, including:
CNC plasma cutter fitted with an extension arm ad pipe roller for cutting any shapes in pipes weighing up to 500 [kg],
CNC bending brake with load of up to 175 [t] and working width 3,100 [mm],
Benders: with mandrels and rolls,
Automatic eccentric presses with load of up to 63 [t].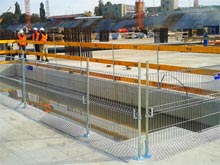 The scope of our services includes:
Cutting any shapes z from sheet plate of black steel, stainless steel and aluminium, with the maximum dimensions of 6,000×2,000 [mm] and thickness of up to 50 [mm]. High quality of resulting edges and precision of cutting in many cases allow replacement of standard machining such as cutting, drilling and milling with plasma cutting.


Cutting of pipes and shapes in pipes of up to 6,000 [mm] length and up to 400 [mm] diameter. Standard programmes saved in the memory of the machine allow very fast (without processing the detail drawing with a computer) cutting elbows from pipes of any angle and rounding radius as well as executing weld tie-ins for connecting pipes at any angle.


Cutting with tape cut-off machines with 400×350 [mm] passage,


Shearing, punching, cutting and cutting off in presses with load of up to 100 [t],


Bending with a hydraulic bending brake with load of up to 175 [t] of sheet plate elements of up to 3,100 [mm] long,


Bending pipes, profiles, angles, T-bars and flat bars with roll and mandrel benders,


Drilling with diameters of up to 50 [mm] and threading of up to M30,


Welding structures of black steel, stainless steel, aluminium with MIG/MAG and TIG methods.
INTER TLC LTD Serves The Following Areas