Time and date
CONSTRUCTION DIRECTORY
NBA Refrigeration Co Ltd

Contact Details
Address
Unit 2/Avro Business Centre
Avro Way
Melksham
Wiltshire
SN12 6TP
About NBA Refrigeration Co Ltd
Local, family-run business
NBA construct coldrooms, freezers and food production areas. We hygienically clad all types of environment to create clean rooms for various industries around the south of the UK.
We are a family-run business located in Melksham, Wiltshire who have been operating in excess of 26 years and pride ourselves on our personal approach, professional service and quality product across many industry sectors.
We work for large multi-national companies down to small independent manufacturers and retailers and have a plethora of happy customers who we work for time and again.

What we can do for you
NBA create coldrooms and freezers of any dimension — it's amazing what we can fit where! No matter what your business, be it a butcher, baker, florist or undertaker, we can help you.
We provide a tailored service to create rooms from scratch, complete with bespoke handmade sliding or slamface doors. We can renovate and expand existing facilities to increase production space and maximise efficiency.
NBA also create hygienic environments for many different industries from food manufacturing and preparation to medical laboratories and distribution centres.
We'll undertake a no-obligation free site visit then use our knowledge and experience to design a cost-effective solution to suit your budget.
Products and ServicesColdrooms and Freezers
We can build coldrooms and freezers of any size or shape.
We've completed projects ranging from 750sq/m warehouses to 2sq/m chillers and pretty much everything inbetween.
Our wall panels are made from a Polyisocyanurate (PIR) core and use an interlocking system to enable rapid construction. They are suitable for use in temperatures down to -40°c and have excellent thermal insulation.
Hygienic Environments
We construct hygienic environments a wide range of industries from food production to pharmaceutical.
It's possible for us to outfit new premises or retrofit around existing production machinery with either our panelling system or antibacterial hygienic PVC, however awkward the space.
Doors
We can design and build all types of doors to fit any sized opening.
We provide sliding doors of any height or width with auto options or manual self-close and sliding track options to suit different door sizes and budgets.
We also supply slam face doors, personnel doors, fixed or sliding curtains, single or double swing doors in either flexible PVC, polyethylene or insulated polypropylene with or without bumper strips, high speed doors and insulated or uninsulated roller shutters.
Doors can be fitted with single, double or triple glazed vision panels in a variety of shapes and sizes.
Renovations, Expansions and Maintenance
Renovating or expanding your existing facilities can be a cost-effective solution.
We often undertake upgrades of existing spaces which can include renewing or refitting panelling, overcladding existing panels and replacing or upgrading doors.
We can extend, dismantle and reconstruct in a new location, or even change use of existing rooms where possible.
We also provide a maintenance contract to audit premises on a monthly basis providing a report detailing all faulty and damaged panels, door furniture, tracks, gaskets and seals, threshold and frame heaters. This allows the client to remain efficient and up to date with all current legislation.
NBA is registered member TV9868 of the Safecontractor scheme.
You can be confident of our approach towards all aspects of health and safety while we undertake work on your business premises.
Contact us:
Tel: 01225 709506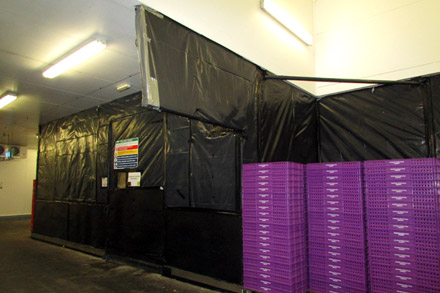 NBA Refrigeration Co Ltd Serves The Following Areas