Time and date
CONSTRUCTION DIRECTORY
Hard Chrome Plating & Grinding

Contact Details
Address
Kings Mill Way
Mansfield
Nottinghamshire
NG18 5ER
England uk
About Hard Chrome Plating & Grinding
Situated in North Nottinghamshire, in the heart of Robin Hood Country, HCP is a specialist Hard Chrome Plating and Grinding Company.
Established in 1986, HCP has a strong client base, including customers in such trading areas as the gas, electric and brewing industries, motor vehicle and cycle production, industrial and manufacturing industries etc.
Our fully trained and committed workforce ensure continuity and quality of service is maintained at all times.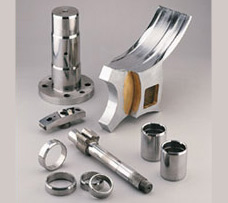 Our operating equipment includes:
4 Hard Chrome Plating Tanks (Maximum plating length 1.8 metres)
4 Centre Grinders
2 Centreless Grinders
1 Centreless Polisher
1 Traversing Belt Polisher (Capacity 3 metres x 360mm)
We can also offer a collection and delivery service, details are available on request.
ServicesHard Chrome Plating
Hard Chrome Plating is an effective treatment for a variety of metals. Hardness of deposit (1100-1250 H.V.) giving greater wear resistance. Whilst micro-cracking (>300cm-1) improves corrosion resistance.
Steel
Copper
Brass
Stainless Steel
Some components which benefit from plating with Hard Chrome are:
Pump Shafts & Rotors
Hydraulic Rams & Cylinders
Print Rollers
Gear Shafts
Seal Paths
Motorcycle Forks
Hopper Plates
Packaging Formers
Wear Rails & Rods
Your component not listed? Please email us or give us a call on (01623) 237858.
Grinding
Our on site centreless and centred grinding facilities enable us to offer our customers the complete Chroming and Grinding service.
Between Centres 12mm to 2 metres in length - 5mm to 360 mm diameter
Centreless Grinding 12mm to 1 metre in length - 10mm to 65mm diameter
Polishing
After Hard Chrome Plating and, if necessary, grinding your component, our polishing shop can finish to a very high standard.
Centreless Polishing 12mm to 1 metre in length - 10mm to 65mm diameter
Polishing Between Centres 50mm to 3 metres in length - 12mm to 360mm diameter
For Plating, Grinding and Polishing help and advice or for any other general advice, please contact Frank Poulton on Tel: (01623) 862314 or Email us or fill in our Contact Form.
Hard Chrome Plating & Grinding Serves The Following Areas
Find Hard Chrome Plating & Grinding in