Time and date
CONSTRUCTION DIRECTORY
Bulmer Brick & Tile Co Ltd

Contact Details
Address
Hedingham Road,
Sudbury,
Suffolk.
CO10 7EF
England UK
About Bulmer Brick & Tile Co Ltd
Bulmer bricks are made from the finest London clays, dug from our seams almost continually since Tudor times. All Bulmer bricks are handmade, using traditional methods of making and drying and are fired in a coal burning, down draught kiln. This helps to give the distinctive finish that blends so well with the originals. The process takes time - something to consider at the project planning stage.
We are a small family business continuing the traditions of brickmaking on this site dating back to the Middle Ages. Our facings and specials can be made with almost any texture, from coarse veined to smooth with some 150 different sizes of facing and a range of over 5000 special shapes, including all standard plinths, squints and copings, and extends to purpose made chimney bricks, terracotta, mullions, jambs, floor bricks, pamments, decorative plaques, garden edgings and a full range of rubbing blocks.
We work on large projects for the National Trust, English Heritage and Historic Royal Palaces, but are just as proud of some of the small private work undertaken by individuals.
Facing Bricks
Our facing bricks are nearly always made to order. We do keep a stock of the standard sizes but most historic buildings have a character of their own, which can only be preserved by providing the correct size brick in a range of colours that will successfully blend with the original. As with all restoration, sympathy is required not only of the material but also of the workmanship and the design. We work closely with builders, architects and surveyors where possible to ensure that the bricks we produce are right for the building.
Chimneys & Pinnacles
Victorian or Tudor chimneys can be reproduced by working from samples or architects drawings. We have repaired and reproduced chimneys and pinnacles at Hampton Court, Helmingham Hall, Oxborough Hall and St Osyth Priory to name but a few.
On a smaller scale, we have produced bricks for fireplaces including mantle, hearth and curb bricks, and 6" brickettes for the more modest spaces.
Copings
We have a vast collection of moulds covering a huge range of brick specials including copings, plinths, squints, jambs, mullions, bullnose, chimney bricks and many more.
Flooring
Our brick flooring is unique and worlds apart from many of the thinner, imported floor tiles widely available. They are made with a 'double struck' finish to give a smooth surface on the face and can produce a buff/pinky colour similar to the old Suffolk Floor Bricks no longer in production, which cover the floors of so many of our local beautiful old churches, cottages, dairies, and hallways.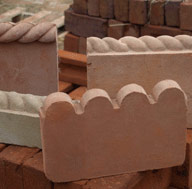 Rubbers and Cutting
We have our own purpose-built brick cutting workshop from which we can produce high quality handcut gauged pieces from our own washed clay BBT Rubbers for use in fine work. We are proud to have supplied all the brick arches for the award winning refurbishment at St Pancras Station, amongst many other prestigious projects around the country.
We can also cut our own handmade facing bricks into plinths, squints etc. according to your requirements if moulding is not an option. You can bring in your own bricks for cutting and bonding where special solutions are required.
Garden Terracotta
We have a large range of decorative terracotta plaques, many from original Victorian moulds. These plaques can be used in a variety of ways in both internal and external spaces to enhance brickwork or on plain walls.
Additional materials include lime, lath, ground pozzulanic material, holkham linseed products and sheepswool insulation.
Consultations
We offer consultation on a variety of brick-related matters including advice on lime as well as site visits to assess work including if necessary a brick survey. Charges depend on the degree of work involved.
We can write reports to Conservation Officers, English Heritage, Local Councils etc.
Tel: 01787 269232
Fax: 01787 269040 bbt@bulmerbrickandtile.co.uk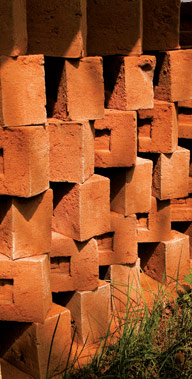 Bulmer Brick & Tile Co Ltd Serves The Following Areas
Find Bulmer Brick & Tile Co Ltd in