Time and date
CONSTRUCTION DIRECTORY
Air Controls & Compressors Ltd

Contact Details
Address
Ditton Road
Widnes
Cheshire
WA8 0NP
England UK
About Air Controls & Compressors Ltd
ACC – your first choice for Norgren pneumatic equipment
Purchase pneumatics and compressed air parts online when it's convenient for you! 24/7 access to products and data from a single source. Alternatively, you can contact our sales support team between 8:00 am–5:30 pm. ACC is committed to providing our customers with a leading standard of service coupled with quality branded products at competitive prices, dispatched the same day.
Established over 20 years and based in Widnes, Cheshire, ACC is committed to providing a leading standard of service to its customers coupled with some of the best value for money within the pneumatic and compressed-air market today.
Distribution and stock
At ACC we pride ourselves on providing our customers with high-quality, innovate products that will suit their every need. We are distributors and stockists for many market-leading brands, such as Norgren, Crouzet, Boge, Parker Zander, Jorc and many more, underpinned and supported by our own range of competitively priced quality branded products.
Service Department
Our dedicated service department offers 24/7 manned breakdown cover. We service and repair air compressors and related plant in all size of enterprise, both large and small, from SME to multinationals, all with the same guiding principle of working closely with the customer and providing them with up-to-date advice and a cost-effective computerised-service routine designed to keep their compressed plant running safely and at optimum efficiency, always.
Our Products
At ACC we specialise in the sale of compressed air systems and pneumatic equipment, from industry-leading brands, such as Norgren, Boge, Parker Zander, Jorc and Crouzet. We stand behind our products and services and with our customers during the planning, installation and service.
Aluminium Compressed Air Pipe
RapidMain Aluminium Compressed Air Pipe solutions are engineered to deliver an energy efficient and economic air solution from air compressor to the point of use. Our aluminium pipe is available in 4 and 6 metre lengths, which allow quick and easy installation.
Available in both single and multi-packs. All our aluminium air pipes are corrosion resistant, meaning NO RUST! Easy to install, modify and reuse!
Specifications: Vacuum to Pressure -0.6 to 15 bar. Temp: range -20 to 80 C.
We also provide over 75 compressed air pipe system components: adaptors, valves, nuts, bolts, screws.
Pneumatic Fittings
We sell more than 200 pneumatic fittings to suit your every need. Available from brands such as John Guest, Norgren, Wade, and our own quality ACC Metric Fittings!
Fittings range from 4-28mm, OD suitable. To be used with nylon, PU & flexible fubing, copper pipe, plain and copper coated tube.
The fittings we offer are available in a variant of materials such as plastic, brass and copper.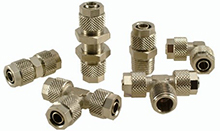 Product Catalogue
At ACC we offer you our own 212-page, 10,000+ items "Trade Counter Product Catalogue", the majority of which is stocked at our Widnes Stores. The catalogue is designed to provide vital information to commercial, maintenance and design personnel, and a pictorial priced index and summary specification for most products included within. A concise, focused compendium of useful products, if you like.
Pneumatic Fittings
BSP Fittings & Manifolds
Compressed Air Pipe Systems
Stainless Steel Fittings
Pneumatic Tubing and Hose
Brass and Plastic Hose Fittings
Tubing and Hose Accessories
Hand Tools and Pipe Marking
Ball Valve and Process Control
Quick Release Coupling
Air Tools and Blow Guns
Pneumatic Cylinders
Pneumatic Control Valves
Din Plug Connectors
Pneumatic Control Accessories
Air Logic and Step Sequencers
Filtration Regulation Lubrication
Pressure & Vacuum Gauges
Vacuum Pumps & Generators
Air Motors
Vibrators Pneumatic
Screw Air Compressors
Vane Air Compressors
Piston Air Compressors
Compressed Air Dryers
Air Receivers
Main Line Air Filtration
Breathing Air
Condensate Management
Oil Water Separators
Lubricants & Coolants
Compressor Maintenance
Gallery
Click to close
Air Controls & Compressors Ltd Serves The Following Areas
Find Air Controls & Compressors Ltd in
Air Controls & Compressors Ltd General Description
Air Compressors, Pneumatic Fittings, Compressed Air Pipe Systems, Stainless Steel Fittings, Brass and Plastic Hose Fittings, Air Tools and Blow Guns, Pneumatic Cylinders, Air Motors, Piston Air Compressors, Pressure & Vacuum Gauges