Time and date
CONSTRUCTION DIRECTORY
A T & T GB LTD

Contact Details
Contact
Business Development Team
Address
Units 8-10 Phoenix Trade Park
Ealing Road
Brentford
Middlesex
TW8 9PL
England, UK
Wednesday
07:00 am-06:00 pm
Monday
Tuesday
Wednesday
Thursday
Friday
Saturday
Sunday
Closed
Other Dates
Our Trade Counters are open 7am-6pm Monday to Friday and 8am-12pm on Saturdays (1pm at our Reading branch) where a warm welcome awaits all our visitors. Our friendly staff have a wealth of product knowledge, usually aquired over many years of experience. Expert guidance and information is available if required, backed up by 15,000 products held in stock for immediate collection.
About A T & T GB LTD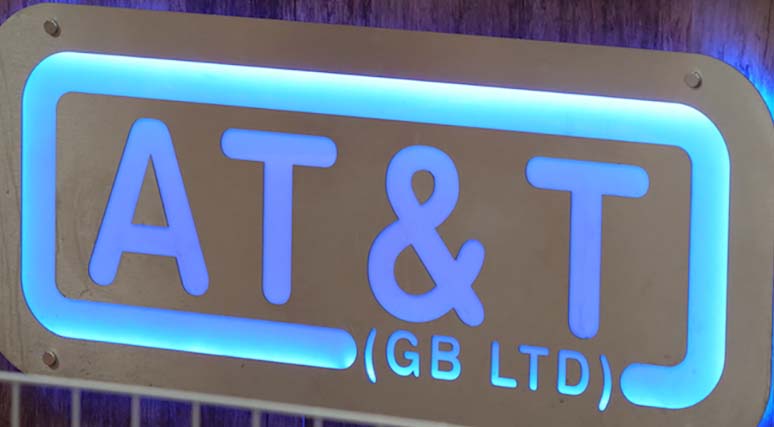 AT&T GB Ltd are a large, independently owned supplier of electrical products and services.
We were founded by electricians frustrated by the poor service provided by their existing suppliers, which is why at the heart of our business is the single principle of organising our business around the needs of your business, whatever market sector you work in and wherever that may be in the UK.


We're driven to provide our customers with the simplest and easiest way to source electrical products and services, however your business defines it. We believe great customer service, account management, high product availability and unrivalled logistics set us apart from our competitors.

Electrical Contractors
We have direct relationships with major industry brands and hold stock of MK, Prysmian, Hager, Dimplex, Legrand, Aico, Thorn, Crabtree, Schneider and many more.

Customer Care
Each AT&T customer has a single point of contact within our business. This member of staff will have significant experience within your electrical sector and will be able to help solve any electrical problem that you might have.


Stock Holding
Between our Brentford & Reading branches we have over 60,000 sq ft of warehouse space, we stock in excess of 15,000 products which is in excess of £3.5million worth of stock available to any contractor at any time. As a member of the Fegime European buying group we also can command significant buying power meaning we remain competitive no matter what your order size.


Logistics
Our own fleet of vehicles delivers daily from our branch locations offering a range of delivery services and times to meet your site requirements including same day deliveries, pre 9.30 am timed deliveries and after-hours deliveries.


Heathrow Airport – Airside Deliveries
We are the only electrical products supplier certified to deliver airside at Heathrow Airport, allowing contractors to receive on-site deliveries, saving them up to 72hrs of processing time.


Engraving
At AT&T we have invested in our own engraving machine to support our customers where faceplates need to be labelled.


Trade Counter
Our two trade counters at Brentford & Reading give customers the option to view products or speak to staff face to face in order to find the best solution for their requirements.
Facilities Management
Our Facilities & Maintenence team are dedicated to supporting facilities management and maintenance companies and are adept at supporting multiple sites in a single location or city. Between our Brentford & Reading branches we have over 60,000 sq ft of warehouse space holding more than 15,000 products with a value in excess of £3.5million. We maintain large stocks of major brands such as Aico, Dimplex, MK, Schneider, Legrand and Wylex, which can be rapidly delivered to site.
Renewable Energy
AT&T GB Ltd are supporting contractors installing and maintaining renewable energy projects across the country. We have direct relationships with key manufacturers in the green energy sector, meaning we can support your project, large or small, whether solar PV, car charging points, source pumps or any other source of green energy requiring electrical products.
Visit our
LinkedIn
page.
Gallery
Click to close
Videos
Products & Services
Electrical wholesalers London
Electrical wholesalers Reading
Electrical wholesalers Middlesex
Electrical wholesalers Berkshire
Electrical wholesalers Heathrow
Lighting Design
Unrivalled Logistics and delivery services
Massive stock holdings
Trade Counter collections
Arials
Aerials
Cable Accessories
CCTV
Consumer Units
Door Bells
Door Chimes
Distribution Boards
Entry Systems
Earthing
Electricians Tools
Renewable energy
Fire Detection
Heating
Industrial Sockets
Industrial Plugs
Intruder Alarms
LED lamps
Lamps
LED lighting
Lighting
Programmers & Timers
PVC Cable Management
PVC Conduit
PVC Trunking
Security Lighting
Showers
Site Equipment
Steel Cable Management
Steel Conduit
Trunking
Switchgear & Control Gear
Test Equipment
Ventilation
Water Heating
Wiring Accessories
A T & T GB LTD Serves The Following Areas
A T & T GB LTD General Description
Electrical Wholesalers