Time and date
CONSTRUCTION DIRECTORY
Address
25 Willow Lane
Mitcham
Surrey
CR4 4TS
About reintec
Reintec is our fully outsourced cleaning equipment solution for contract cleaners that offers an innovative way to supply, maintain and manage your cleaning equipment supported by an exclusive range of high performance cleaning equipment.
We know you've got a lot to do so we listened carefully to what Facilities Managers and Cleaning contractors said they needed to be able to do their jobs more efficiently and more cost-effectively.
They told us that they spent too much time and money managing their equipment and equipment-related service issues. They also told us they were worried about compliance. So we set up a cleaning equipment service to help wipe those problems away.
Reintec is an innovative way to source, manage and maintain your cleaning equipment that removes the need for capital outlay and then helps to drive productivity up and operating costs down whilst guaranteeing compliance and freeing you up to look after your customers. Reintec gives you the flexibility to scale your equipment needs up – or down - in line with your contracts on a long term hire basis. We'll pro-actively manage all maintenance and help to minimise downtime through equipment exchange so that your cleaning equipment just keeps cleaning and so that you can just keep working.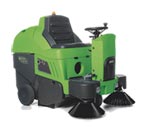 reintec Serves The Following Areas