Time and date
CONSTRUCTION DIRECTORY
Slimline Glazing Systems Ltd

Contact Details
Address
275-277 Ewell Road
Surbiton
Surrey
KT6 7AB
England UK
About Slimline Glazing Systems Ltd
Unique and contemporary design innovations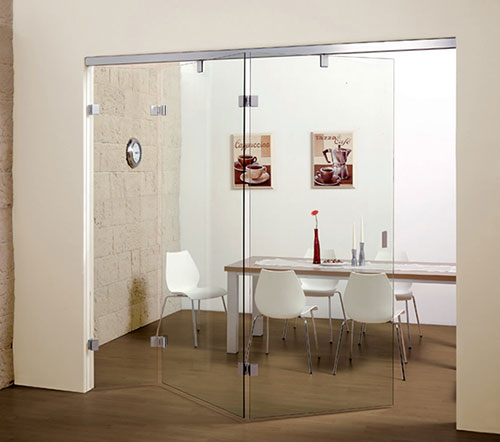 We specialise in the supply and installation of structural glazing works and an extensive range of bespoke aluminium & glazing products.
As a company we pride ourselves on our customer service and satisfaction, product knowledge and experience to ensure we can offer our customers the highest quality products with service to match.
All glazing systems we install incorporate unique features that set them apart from other companies. This approach enables us to offer a product range from the slimmest of sliding doors to a range of frameless products. One of the slimmest sliding doors on the market (the SL17) is an environmentally-friendly door system with a centre pane U-value of 1.0. Our frameless single glazed internal room dividers are frequently used in the commercial and domestic market place.
Our Sliding Patio Door Range
Slimline SL17 Glass Sliding Patio Doors
The cutting edge Slimline aluminium sliding patio door system is a structural glass system with 50mm thick glazed units and 17mm narrow site lines and minimal frame work. With the handles built into the glass units, it allows you to achieve small or large sets of doors and still maximise the view.
SL35 Hi-Infinity Sliding Patio Door System
The SL35 Hi-Infinity Sliding Patio Door System offers the ultimate in modern design by combining huge sliding door panels with a frame that is designed to be hidden behind the surrounding wall. With a 35mm site line and handles built onto the sides of the frame, it allows you to maximise the view. This system can also be automated, which gives you the latest in sliding door technology.
SL Air Sliding Door System
If you want to keep to the more traditional sliding door system, then look no further than the SL500 Air & the SL600 Air. As a standard system, it still has thin frame work and the latest mechanisms to allow you to be able to have a lift and slide capability. This system offers many features and can be used in many different combinations.
Hajom Step Sliding Patio Doors
The latest innovation in sliding door design. By equipping stepped glass on the exterior side, the glass can be recessed into the frame construction, making it possible to place sliding doors in line with the facade.
Curved Sliding Patio Doors
Our Curved sliding doors offer some extremely innovative and interesting solutions. Our expertise in bending and curving glass has allowed us to develop an affordable curved sliding door solution.
Our Glazing Systems Warranty
We offer individual warranties for your windows, doors and curtain walling/structural glazing systems.
You will receive a 10 year warranty with the products as standard from ourselves. Some of the suppliers will offer up to a 25 year warranty on certain aspects of your product.
Slimline Glazing Guarantees
Our 10 Year Guarantee:
Slimline ensure that, if required, your windows and doors will be maintained by our experts in such a way that their full function is retained over a period of 10 years.
The fitting and installation of a product.
On the material bonding of Aluminium windows and doors, with structural silicone on all finishes bonded with materials and other component Adhesives.
Against deformation of working parts
Against deformation of working parts still under warranty.
But not against parts that have been forced or mistreated.
5 Year Guarantee:
On the function of window and door elements
On the protective function of coatings
Against the misting up of the insulation of glazed unit.
Reviews & Testimonials for Slimline Glazing Systems Ltd

November 02, 2018
The guys finished the installation of the slimline sliding doors. It is a great product; I am pleased. The installation team were very pleasant and competent, with a good focus on quality and attention to detail.

November 01, 2018
I just wanted to say that I am very pleased with the service so far. I put in a query on Tuesday evening, had a conversation with Joanna Wednesday morning, had support from the installation team yesterday (Thursday) afternoon and placed the order at 4pm. Thank you so much for a fast and efficient service so far.

October 04, 2018
Our sliding doors (S20) are simply outstanding. Everything, from the lock mechanism to the sliders (that "glide") and the anthracite finish is outstanding. We had a couple of issues delaying installation - but Joana in the office made sure the job was completed the very next day. HIGHLY recommended

October 01, 2018
Thank you Slimline for our gorgeous doors and window.The whole team from Rasa and Scarlett to the 'A' team of Reimas and Ricardo fitting them were incredibly professional, polite and thoroughly helpful guys with a very focussed attention to detail. They've transformed our house. Highly recommend.

September 30, 2018
We contacted Slimline after issues with the Supply of an alternative. What a difference. Really quick response, clear communication, didn't mind my thousand questions, delivered ahead of schedule, great customer service and most importantly they look absolutely fantastic. Would highly recommend.

September 02, 2018
Fantastic Slimline Doors. When the plans were drawn up for the ultra contempory glass extensions to our 200 year old stone house I had a vision of how it would look and I am not disappointed. The SL18 doors and glass walls are perfect, as was dealing with the company and the team who successfully fitted the glazing on some of the coldest days of the year.

August 05, 2018
Hi guys - thanks for doing a great job on installing the roof lantern.. ! It looks absolutely stunning! W4 CHISWICK

July 05, 2018
From start to finish Bob was helpful, knowledgeable and most importantly always available. Our job turned out to be more complicated than we anticipated but Bob found a way to resolve the issues and most importantly, satisfy our Building Control officer! Thank you for a wonderful end product!
Testimonial by
Christine & Neil

July 04, 2018
We had 12mts of SL20 Otimma sliding doors installed and they look stunning! Best system on the market. We are equally impressed with the aftersales support as when one of the doors needed adjusting due to small movement of the new house they came within a day. Special thanks to Tony and Bob.

June 02, 2018
The windows are absolutely beautiful - but we appreciate this is importantly down to expert installation - please pass on a big thank you to all the installation teams. Each and every one - who have been outstanding craftsmen, highly professional in their approach and an absolute pleasure to have working in my home. We feel very fortunate to have found Slimline after our loft company builders had let us down on the architects specification for the windows

April 12, 2018
Your guys came yesterday and did a brilliant job finishing off. They were also very polite and tidy. We would like to say a big thank you to you for all your help and support - and going the extra mile to give us an amazingly professional service. You have been quite simply brilliant and we really appreciate it.

February 22, 2018
I contacted slimline for sliding doors for my home. Its not easy getting to see them but slimline had a 6m set of sliding doors in their showroom. An excellent product and eight weeks after survey as promised ...they are in. Well done to everyone at Slimline. Highly reccommended
Slimline Glazing Systems Ltd.

5

out of

5

based on

12

ratings.
Gallery
Click to close
Videos
News
02/11/2018
Why a Glazing Extension is the Right Choice For You!
---
Is your home starting to feel a bit snug? Perhaps your family has expanded beyond your original walls; sounds like time to think about an extension.

Before you start stockpiling bricks in readiness, have you thought about a glazing extension? Moving away from the traditional build of bricks and tiles is becoming more and more popular, with good reason.

Let's look at why a glazing extension could work for you.
What Are Glazing Extensions?

Typically, conservatories and orangeries are classed as glazing extensions, as are glass boxes or any type of structural glass systems that increase the footprint of your property. Originally these structures were only seen on the homes of the rich, built to house tropical plants protectively in the winter months.

As the materials to build glazing extensions have developed and become more cost effective, designs have evolved. Now glazing extensions are not limited to the traditional lean-to conservatory, but encompass architecturally designed additions to grace any home.
Transform Your Home With Structural Glass

An extension of any kind will change your home; a glazing extension will transform it. Here's why:
Glass Designs To Suit All Propery Types

A glazing extension is not just a wall of bricks with a roof and a window; because of the materials involved the designs available to you are extensive, including bespoke creations. Choose from elegant and modern lines, to traditional and ornamental styles, depending on the original features of your home.
Add An Amazing Space, Space And More Space

Yes, we know, all extensions give you extra space, but a glass extension provides not only extra footage, but the illusion of a vast area beyond the windows. Nothing says space like floor to ceiling windows; capped with a glazed roof that brings the sky into your home and you will feel like you are literally floating on clouds.
Modern Glazing For A Comfutable Area All Year Round

Contrary to popular belief, a glass extension or conservatory is not too hot in summer and too cold in winter.

With modern materials and innovative openings, glass extensions come equipped with multiple windows to let the breeze in on a sunny day. Yet the double or triple glazing keeps the area toasty warm in winter.
30/08/2017
Slimline Glazing Wins the 2017 Sustainable Building Awards
---
For the second year running, we are delighted to announce that Slimline Glazing and Aluminium Systems have won the Sustainable Building Awards - London. With this award, we continue to show the world how eco-friendly aluminium doors and windows are.

Following on from the success of the awards in 2016, the Sustainable Building Awards 2017 celebrate the efforts of the individuals and firms who act as trailblazers across the world of Eco-friendly and Sustainable buildings. These awards recognize the skill and dedication of innovative firms within this important area.

No longer seen as a niche sector, sustainable buildings are now considered a key area in the construction industry. As technology, marketing and consumer expectations have developed, the market has demanded more environmental designs and considerations within the construction industry. This has allowed those firms who are already progressive in this area to not showcase their creative designs and vision, but to share their ideas to the wider world.

Sustainability is an aspect of our world that needs to be encouraged, whether you are an individual or large company. The Sustainable Building Awards 2016 not only reward those who follow this path already, but aim to accentuate to all how to improve the working and living environment by adapting and changing the global construction market for the better.

The Sustainable Building Awards 2017 are all provided exclusively on merit, ensuring winners achieve this outstanding award solely on their performances to date.

"I'm delighted on behalf of the whole company to win this for the second year running" says Tony, CEO of Slimline Aluminium.

"We believe 100% in sustainability and will be continuing to develop this area of our business in the future."
10/05/2017
Caring For Your Aluminium Frames
---
Aluminium Framed Windows and Door Maintenance

The good news is, aluminium frames need very little maintenance. Built to last, all they really need is a good clean every so often, to get rid of the grime that gradually builds up.

Other areas of maintenance include checking the fixtures and fittings, and ensuring all is working well. A touch of grease occasionally in the hinges helps dispel any water trapped inside, as well as maintaining smooth opening mechanism.
Cleaning Your Aluminum Frames

The most important aspect of cleaning your aluminium frames is not to scratch them, so it's crucial you only use non-abrasive materials. Warm water and a mild detergent is all that is normally required. Use a soft cloth or brush to prevent any accidental marking.

Always start cleaning at the top of your frames; then any drips from above will fall on a non-cleaned area. Keep the water as clean as possible to prevent dirty streaks appearing – change it regularly.

If you come across stubborn stains, use a little paraffin based cleaner or a cream cleaner free from abrasive material. For really stubborn stains, some white spirit should do the trick. Finally, wipe well with a leather chamois.

To get that final shine, use a product specially designed for the job, or you can apply car wax for maximum protection – just be careful not to get any on your glazing. Steer clear of products such as T-Cut, as these will have an abrasive element to them.
What Not to Use

To protect your aluminium frames and keep them looking like new, never use any strong substance containing any of the following:

Chlorination

Hydrocarbons

Ester

Ketones

Polish

Abrasive cleaner

Wire wools and brushes

Cleaning The Tracks on Sliding Doors

There is nothing more annoying than having to force your door to slide open. To keep it gliding in show-room fashion, check for any objects such as stones that might have become lodged.

Then either use a vacuum cleaner to clear out any dust or small objects, or a pressure jet to blow them out. Try to do this every month

Next you should then apply a minimal amount of silicon – the spray version is the easiest to apply. Use where the wheels and guide discs meet the track, as well as on the running gear themselves.
How Often Should You Clean Your Frames?

How often you clean your frames depends on your environment. If you live near the sea it might be necessary to clean them 3-4 times a year to prevent a build-up of salt. The same applies if you live in a heavily polluted area. In a 'normal environment', once a year should be adequate.
The Result

A gleaming clean finish that not only looks great, but helps preserve the life of your aluminium frames.

So why wait – get polishing today!
06/04/2017
Traditional Windows - Modern Twist
---
However, one thing most people agree about traditional windows is that they fit the look of the house, and installing modern ones would interfere with both the interior and exterior façade.

So what do you do?

Sacrifice your hard-earned money to keep your house looking as if it all belongs in the same era, or downgrade your standards for the sake of saving what could be a substantial amount of money?

We have the answer...
Traditional Windows and Doors - Made With Modern Materials

In this age of progress, it is entirely possible to have modern windows that work well on old buildings, without making everyone stare and say – "Wow, those windows just don't fit that building!"

Our new heritage ranges have been introduced that fit both criteria; they possess all the properties of the 21st century window but the beauty and grace that befits days gone by.
From Steel to Aluminium Frames

Aluminium, for example, is being utilised effectively to replicate steel-framed windows, making them suitable for heritage and modern projects.

The classic style seen in this range is normally fully acceptable in conservation areas, where tighter planning laws are in place to ensure a like-for-like replacement.

They can also be designed to mimic existing styles, and complement steel doors and features already in situ, while offering all the energy benefits of the modern aluminium window.
Tailor-Made Traditional Style Aluminium Windows and Doors

A real benefit of modern heritage windows is they can be tailor-made to fit any specification. So, whatever the style of your property, these windows can be designed to subtly match the original design, while staying in keeping with the overall character.
The Hidden Extras (spoiler - they're all benefits!)

However, hidden beneath the aged façade, you will be enjoying all the extras afforded by the most advanced windows going. With heat retention properties, security features and high quality as standard, having traditional windows need no longer be a drag on your cash.

Combined with either classic or decorative panes, modern heritage windows not only offer something to look through, but also something to gaze at.
12/02/2016
First Impressions Count
---
Walk down a busy high street and you are bombarded by a huge array of commercial premises - shops, restaurants, bars - every one of them vying for your attention. It's likely you'll come across several all selling similar wares, so what makes you choose one particular store over another to spend your hard-earned cash in?

First Impressions Count

It's all about first impressions, which really do count – clichéd but true!

The shop that catches your eye initially will be the first you visit, so making that extra effort to make your shop front stand-out is well worth the time.

Don't be Dull - Choose a Diamond Finish for Your Shop Front

So if you own a shop, how can create that extra special touch? Consider the difference between a shiny, sparkling diamond and a dull pebble – which one immediately draws your attention? Of course, it's the 24 carat stone.

So your job is to make your shop that gleaming precious stone, surrounded by lacklustre nuggets.

Shop Front First

Most retailers rely on their window dressing to attract their customers, but as a savvy marketer you need to go one step further, and think first about your windows and doors. By installing commercial glazing with that extra wow factor, you cannot help but attract that second glance that brings the customers to your door and beyond.

Pretty and Practical

One option is to consider glass extensions. These provide not just an aesthetic focal point, but also add extra room. If adding a glass extension is impractical, consider installing structural glass to replace existing walls or frontals. Not only does it offer a light and airy feel to your property, as an added benefit these double glazed units are energy efficient, and can be purchased with solar reflecting coatings.

Get Creative with a Commercial Glazing Solution

The beauty of structural glazing is that designs are only limited by your imagination. Use it in your ceiling to bring light and ambience into your store, or create exciting new features that will showcase your products. Or build a glazed entrance that attracts your customers like magnets to metal.

Open Your Doors... or the Whole Shop!

Don't forget the doors either. A frameless door rail system is ideal for commercial properties, offering a stylish and practical solution both externally and internally. Various options are available, such as frameless end-fold door systems, frameless glass door rail systems or centre-fold models, allowing you to personalise your design. With the potential to install as many swing, sliding or folding doors as you want, you can have the crowds all flocking in together!

Put your commercial glazing to work and outshine your competition. Standing out from the crowd is simple when you know how – combine creativity with commercial glass and doors, and get that diamond shine.

- See more at: http://www.slimlinealuminium.co.uk/blog/2016/02/09/help-your-shop-stand-out-with-structural-commercial-glazing#sthash.eN
12/02/2016
Case Study: Glazing a modern house in Kensington and Chelsea - See more at: http://www.slimlinealuminium.co.uk/blog/2016/01/18/glazing-a-new-build-hou
---
Although technically a new build, there was previously a house at the end of this Victorian terrace in Kensington and Chelsea. However, it was destroyed by bombs in World War Two.

The house is in the centre of the Brook Green conservation area - located close to Kensington Olympia, Hammersmith Broadway and Shepherds Bush.

The Challenges of Modernising a Victorian Terrace in Kensington and Chelsea

House Plans Expoloded ViewDue to the restrictions on the area, planning permission for the project was not a straightforward proposal. Plans were eventually developed combining stone, render and glass, in a bevelled façade. Glass featured extensively, designed to allow as much light into the property as possible, in keeping with the Rights to Light covenant.

Delicate negotiation for planning permission was required, and a series of models were developed in the process. The complex nature of the build was represented across several studies, several of which have since been used in architectural exhibitions.

However, the complexity of the plans meant that an off-the-rack approach for the glass element was not an option. The project needed a specialist glazing company to design and install a glass façade, windows, doors, walk on glass and a glass stair case, as detailed in the plans. Known as the Tailored House, the name reflects the unique requirements of the project.





A Unique Bespoke Glazing Service on a Large Scale

Glazing a modern house in Kensington and Chelsea

In fitting with the complexity of the project, and working alongside GGR Glass, Slimline Aluminium offered a bespoke service to provide the quality glazing required. All the units were designed from scratch and built to specification off-site before installation.

Because of the need for steel fabrication work and powder coating, specialist machinery was employed to lift the glass into different positions. This required close collaboration between the operators and Slimline Aluminium.

Due to the weight of the glass, plus the hazards imposed on the installers from the weather and the elevated conditions, comprehensive safety equipment and standards were utilised throughout.

By implementing precision engineering alongside the skilled contractors from Slimline Aluminium, the glass and steel work was fitted to a high quality befitting the overall build.

The result - a beautiful, light flooded, modern house in the heart of South London

Slimline Aluminium provided:

Front glass facade to the dormer structure

Aluminium windows to the side elevation

Slide and pivot doors to the front elevation,

Two structural glass roofs

Glass stair case

Fixed frameless picture windows

SL17 sliding aluminium doors

Walk on glass


The overall result is a structurally sound build where the abundance of glass creates a feature of light. Aesthetically pleasing, it is also original and makes the most of the available space.

It also meets the archit
Products & Services
project management
product sourcing
building services
architectural services
glass wall systems
balastraudes and juliette balconies
electric sliding/opening roof lights
sliding stacking corner door systems
sliding doors
roof lights
doors
windows
walk on glass
structural glass
bifold doors
sliding patio doors
Twitter Feed

Facebook Feed
Slimline Glazing Systems Ltd Serves The Following Areas
Slimline Glazing Systems Ltd General Description
structural glazing London, aluminium designs London, contemporary design innovations London, external glass structures London, patio door system London, sliding door systems, structural glass sliding doors, Multi sliding door systems, Curved sliding doors London, Single Glazed Door Systems,