Time and date
CONSTRUCTION DIRECTORY
Jarcon Plant Hire Ltd

Contact Details
Address
Suite 204b Blackburn Business Centre
Davyfield Road
Blackburn
Lancashire
BB1 2QY
About Jarcon Plant Hire Ltd
Jarcon Contractors Ltd was formed to provide concrete structures and civil engineering projects up to £5 million in value. Within the last 6 years, Jarcon Contractors Ltd has grown from strength to strength, earning the respect of fellow construction industry suppliers and clients.
Niall Murphy and Damien McSwiggan have both worked in the concrete business for over 20 years, each starting out as joiners and progressing to become foremen looking after projects. Over time thier skills developed in to Construction Managers looking after projects at up to £15 million for some of the major concrete frame contractors in the UK.
Whilst Jarcon Contractors continues to grow and evolve, our employees stand committed to upholding core values of reliability, quality and service of Jarcon Contractors Ltd.
Services
Jarcon Contractors Ltd has a strong reputation for innovative working methods in the following concrete sectors
Our services also include concrete formwork design & installation, concrete reinforcement, groundworks, civil engineering and concrete flooring.
Successfully completed projects range from basic formwork reinforcement projects to complex civil engineering contracts. Jarcon Contractors Ltd also manufacture a range of bespoke precast units.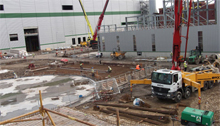 Jarcon Plant Hire Ltd offers a large stock of equipment including:
Formwork for walls, decking & scaffolding
Excavators
Aerial Work, Platforms & Ladders
Jarcon Flooring Ltd, our specialist flooring division, provide our clients with all their concrete flooring needs – from design & planning right through to delivery of materials and installation.
Jarcon Flooring Ltd are proud of our reputation as a trusted industrial flooring contractor and our growing number of happy clients reflects our commitment to the quality of each job.
From foundation slabs to SRFC floors, Jarcon Flooring Ltd can fulfil your specific needs for indoor or outdoor concrete flooring.
Over recent years we have completed a range of jobs including warehouse flooring, laying foundation slabs for a hotel and multi-storey car park.
Jarcon Plant Hire Ltd Serves The Following Areas