Time and date
CONSTRUCTION DIRECTORY
CryoGenesis Ltd UK

Contact Details
Address
Units N1/N2
Riverside Industrial Estate
Littlehampton
BN17 5DF
About CryoGenesis Ltd UK
We offer Dry Ice Blasting Equipment Sales, Hires and Training, Dry Ice media Sales, and Dry Ice Cleaning Services, in the United Kingdom and Worldwide.
Dry ice blasting also known as Dry Ice Cleaning, CO2 Blasting, was developed as a safe, clean alternative to bead, grit, and sand blasting.

Dry Ice Blasting has now grown to become a vital part of the cleaning process in a remarkable variety of industries throughout the world.
Dry Ice Blasting is an industrial cleaning process in which particles of solid carbon dioxide are propelled at high velocities to impact and clean a surface. These particles are accelerated to supersonic speeds by compressed air and delivered via a hand held or robotised nozzle at the surface to be cleaned.
Dry Ice Blasting...
Cleans without surface erosion
Dramatic savings in man hours and hazardous chemicals
Eliminates potential damage to machine parts
Eliminates secondary waste streams
Eliminates personnel exposure to cleaning product corrosives
Reduces downtime with minimal disassembly
Eliminates blasting media entrapment and drying time
Eliminates electrical and bacterial problems
Reduces overall cleaning time

Dry Ice Cleaning
Unlike conventional blasting methods, sand, bead grit etc., the process is non abrasive. Dry Ice has a hardness between 1 (Talc) and 2 (Gypsum) on Mohs' Scale of Mineral Hardness.
Bombarding a surface with solid CO2 creates a tension wave between the contaminate and the substrate. Most of the kinetic energy used to drive the particles to the surface is converted into heat on impact facilitating a rapid phase change from solid to vapour and expanding by a factor of 540 times by volume. In this state, the vapour has excellent "wetting" properties and causes the contaminant to be lifted away from the substrate via surface disruption and rapid sublimation.
Services
Demonstrations and Sample Trials
Dry Ice Info and Sales
Equipment Hire
Equipment Sales
In House Cleaning Services
On Site Contracting Cleaning
Operator Training
Servicing, Repairs and Refurb
Dry Ice Blasting differs from other blasting techniques as the blasting media (Solid CO2) vaporises on impact with the surface being treated, leaving nothing behind other than the material that has been removed.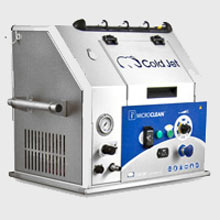 CryoGenesis Ltd UK Serves The Following Areas
Find CryoGenesis Ltd UK in