Time and date
CONSTRUCTION DIRECTORY
Loughnanes Joinery

Contact Details
Address
Monivea
Athenry
Co. Galway
Ireland
About Loughnanes Joinery
Loughnanes Joinery is an Ireland-based family company, supplying the Irish kitchen industry, with an unparalleled choice of woods, kitchen door styles, curved doors with flat panels, curved doors with raised panels and in-framed kitchen doors. We offer all these in either standard kitchen door sizes or off standard kitchen door sizes, at no extra cost.
The Irish kitchen manufacturer can now offer their customers an unlimited choice of kitchen door design, kitchen door sizes, and kitchen door finish options. With Loughnanes Joinery's products you are not limited to ranges - you can develop your own kitchen range, and help make your kitchens unique.
To compliment our kitchen doors, we can offer Ireland-based kitchen manufacturers a range of moulds, corner posts, and kitchen canopies.
In addition to supplying solid kitchen doors in Ireland, we also can offer bespoke items for the Irish kitchen customer, for example, shaped wooden worktops, butcher blocks, featured island units...the options for the Irish kitchen customer are limitless!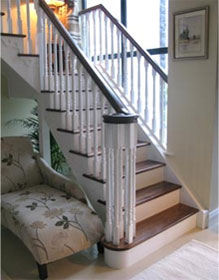 Kitchen Products
As one of Ireland's largest door manufacturers and suppliers, we manufacture MDF Doors, Solid Doors & Vinyl Doors for both kitchens and bedrooms units. We manufacture everything at our 45,000 square foot factory, and therefore, we can make your kitchen doors or bedrooms doors to any specification in a variety of woods, and finishes. Our reputation for producing the highest quality kitchen doors or bedroom doors is one of our strengths.
Our minimal lead time for delivery to the Irish market is another market leading strength. So if you are looking for a Contemporary Kitchen, Country Kitchen, or Modern Kitchen you will find more detail on the product offerings within each category on our main website, just click on the relevant section, and view the vast range of designs, colours, wood types and accessories that we can supply.
Stairs
With generations of joiners in the family, Loughnanes Joinery are specialists in the area of stairs. We can supply and install stairs throughout Ireland. As we have our own spraybooth facility we can finish your stairs off-site. We have divided the stairs section of our website into:
Comtemporary Stairs
Curved Stairs
Traditional Stairs
The Staircase is generally the focal point of any home hallway. We're confident that a staircase from Loughnanes Joinery will enhance your home. The variety of pictures on our website are just a sample of the work that we have done. Be sure to suggest any ideas that you'd like, and we will endeavour to incorporate your wishes, so that your own personal taste is reflected in your bespoke staircase.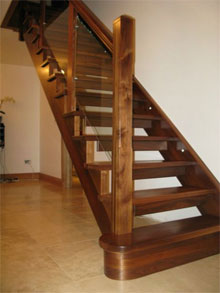 Fire Doors
At Loughnanes Joinery we have supplied Fire Doors to many commercial, medical, and retail sectors projects throughout Ireland. We have included some examples below of the various projects completed by us, where we have worked very closely with architects, engineers, and developers. Our success in this area is our ability to work closely with project managers, and adapt to their requirements.
Joinery
Our Joinery/PVC section of our website has been divided into the following categories:
External Doors:
(a) External Doors - here you will see the wide range for options we offer for External Teak storm proofed wooden doors
(b) Architectural Joinery - if you wish to customise your front door, we will gladly assist.


PVC - Get details on our energy efficient windows and doors.


Internal Joinery - We have displayed a variety of different solid wooden internal doors. Should your architect or interior designer have a different idea, we can manufacture to your requirements.


Engineered doors - These doors are supplied by Deanta Wood.


Home Fitouts - We work very closely with architects or interior designers to specific home fits outs, for example, wall panelling.


Shopfronts - We have help add character to your shop window surround.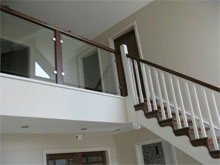 Loughnanes Joinery Serves The Following Areas
Find Loughnanes Joinery in