Time and date
CONSTRUCTION DIRECTORY
Custom Tape Ltd

Contact Details
Address
Unit 27 Centurian Industrial Estate
Centurian Way
Farington
Lancashire
PR25 4GU
About Custom Tape Ltd
We are The U.K & Europe's Premier manufacturer and supplier of both plain hazard and bespoke/custom printed Barrier tape.
Our Sales Team are highly trained in all the products we manufacture to enable us to best determine the products that would most suit your application.
We aim to Respond to all enquiries within 10 mins during normal working hours.
Barrier tape is a great way to make people aware of certain areas which need to be highlighted eg. Health and safety regulations, or areas of caution/alert, and also has the advantage of advertising your business or message at the same time.
Our custom printed Barrier tape can be printed to your requirements: company logos, names etc. Ideal for outdoor events, promotions and a wide range of advertising uses. Barrier tape is manufactured from high strength non-adhesive polyethylene (LDPE). We manufacture this in different grades from 50 micron up to 200 micron thick. 75 micron is the most popular and ensures the tape does not stretch excessively in the wind.
Barrier Tape is a family owned and operated company. Due to our ongoing development, commitment and investment in new technology and the business as a whole, we are now Europe's leading manufacturer/supplier of custom printed tape and barrier tape! We have over 25 years of experience within the industry and have built and continue to build our reputation by supplying high quality products at honest prices to both existing and new customers alike.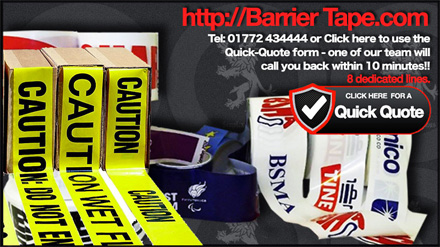 Buy Barrier Tape
We design and Manufacture high quality printed custom tape and unprinted tape, for crowd control, safety, marketing, hazard warning, caution, barricade tape, along with, adhesive packaging, pipework identification, underground warning tape and floor marking tape.
Construction Tape -
Is used in construction zones to notify people about ongoing construction and that there are possible hazards within the demarcated area.


Hazard Tape – Is used in locations containing a substantial danger. Examples include electrocution hazards or areas within which there is a risk of exposure to toxic chemicals.


Traffic Control Device Tape – This type of barrier tape, as its name implies is used to control traffic, whether foot traffic or vehicle traffic.


Police Tape or Law Enforcement Tape – This type of barrier tape is used to isolate, protect and preserve a crime scene.


Firefighter Tape – serves the same purpose as police tape and hazard tape. Firefighter tape is used to isolate a particular area during or after a fire to keep the public away from fire-related risks (e.g. smoke inhalation, airborne particulate matter, and damaged structures).
Reviews & Testimonials for Custom Tape Ltd

April 08, 2016
Custom Tape print have printed tape for us over the last 5 years always on time always top quality & always the best price!! Keep up the good work guys :)
Custom Tape Ltd.

5

out of

5

based on

1

ratings.
Twitter Feed

Facebook Feed
Custom Tape Ltd Serves The Following Areas
Custom Tape Ltd Branches