Time and date
CONSTRUCTION DIRECTORY
J B Monitor Ltd

Contact Details
Address
Adamson House
Towers Business Park
Didsbury
Lancashire
M20 2YY
About J B Monitor Ltd
JB-Monitor is a leading asbestos consultancy specialising in asbestos surveys, asbestos awareness training and asbestos air monitoring.
With over 20 years experience of asbestos surveying we provide a full range of asbestos services that assist clients with the challenges of managing asbestos-containing materials and meeting their obligations under the Control of Asbestos Regulations 2012.
JB-Monitor specialise in the delivery of asbestos solutions, providing:
Asbestos Surveys
Asbestos Analysis
Air Monitoring and Fibre Counting
Asbestos Awareness Training
Asbestos Consultancy
UKAS Accredited Service
The health risks relating to breathing in asbestos fibres are well documented. It is estimated that 3500 deaths per year in the UK are caused by asbestos related diseases.
Those at particularly high risk of exposure to asbestos are:
Builders
Plumbers
Joiners
Electricians
Demolition Workers
IT Installers
Health & Safety regulations now state that employers and those in charge of buildings ('Duty Holders') must identify and control the risk from asbestos in their premises.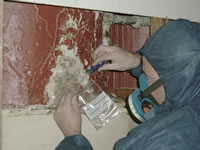 Asbestos Surveys
There is a duty under Health and Safety Law on all employers, and those in charge of buildings, to have their buildings inspected for asbestos-containing materials.
If you are buying a commercial or domestic property you will need to know if there is asbestos in the building.
Air Monitoring
We offer a wide range of asbestos air monitoring services:
Reassurance Air Test
Background Air Test
Air Clearance & Certificate of Reoccupation
Personal Asbestos Monitoring
We hold UKAS accreditation for asbestos air monitoring, air sampling and fibre counting, and we are regular participants in the RICE inter-laboratory counting exchange.
Bulk Sampling Analysis
We are able to take and analyse samples of suspected asbestos-containing materials from client sites.
Asbestos analysis is carried out at our laboratory in Colwyn Bay. The analytical method is based on the HSE recommended method contained in HSG 248.
Asbestos Awareness Training
There is a legal requirement for employers to provide asbestos awareness training for employees who may disturb asbestos during the course of their work. - Regulation 10 of the Control of Asbestos Regulations 2006 (CAR)
This requirement also extends to supervisors.
Asbestos Consultancy
JB Monitor asbestos consultancy advises clients on:
Working with or close to asbestos-containing materials
Managing asbestos-containing materials in buildings
Asbestos management systems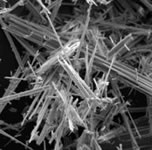 J B Monitor Ltd Serves The Following Areas
J B Monitor Ltd Branches
J B Monitor Ltd
11 Wynnstay Road, Colwyn Bay, LL29 8NB
Click to view telephone number