Time and date
CONSTRUCTION DIRECTORY
Harry West (Prees)

Contact Details
Address
Lower Heath, Prees
Whitchurch
Shropshire
SY13 2BT
England uk
About Harry West (Prees)
Steel framed building design from Harry West (Prees) Ltd
A family-run business for over 45 years', Harry West (Prees) Ltd has built a reputation throughout the industry for its high standards, quality, reliability and durability in all projects they undertake.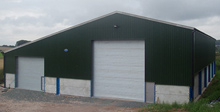 From our Whitchurch location, we welcome clients from throughout the Midlands (including Shropshire, Staffordshire and Wrexham) and further a field through to Chester, Wirral and Mid-Wales. We cater to all your personal building requirements; from administration and design to planning applications and construction.
We manufacture, supply and erect all our agricultural buildings (i.e.: grain stores, barns, loose and cubicle buildings etc) to BS5502 Class II specifications and all our industrial and commercial buildings to BS5950 specifications. We also provide a range of kit form buildings.
Industrial and Commercial
Industrial and commercial building construction throughout Staffordshire, Shropshire, Derbyshire, Cheshire, Worcestershire and Mid-Wales. Working closely with architects and structural engineers, Harry West (Prees) Ltd produce cost effective design solutions for a range of companies in need of quick yet professional logistical support with steel framed buildings to suit your requirements.
Our bespoke steel framed buildings include:
Commercial units
Factories
Industrial units
Retail shops
Showrooms
Warehouses
Workshops
In line with our agricultural building division, all our industrial and commercial buildings conform to BS5950. We have a number of design options available including our general-purpose and kit form services.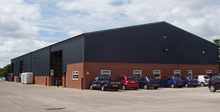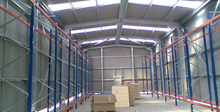 Agricultural
Agricultural building design and construction from Harry West (Prees) Ltd. Based near Shrewsbury and Telford, we were awarded the Tabley Bowl trophy from Cheshire County Council in recognition of our environmentally friendly designed dairy farm buildings. Our agricultural division prides itself on providing a service customers can depend on for reliable, honest advice and construction.
After an initial consultation with our in-house design team, the design process begins with planning application. Once approved, we undertake all ground works in preparation for construction and steelwork. To ensure a smooth and productive development process, we provide a link between both our sales and construction teams. This helps to minimise inter-offer delays and promotes excellent communication.
Our agricultural design and construction service can help with:
Covered silage clamps
Grain stores
Hay barn
Implement buildings
Loose house buildings
Potato stores
Sheep buildings
All our farm buildings are designed and constructed to comply with BS5502 Class II specifications. As with our industrial, commercial and general-purpose building design divisions, we provide the same high-quality service in all our projects.
General Purpose and Kit Form
General-purpose and kit form buildings from Harry West (Prees) Ltd. We design and fabricate all our buildings in-house. This not only guarantees a consistent design methodology and approach but allows us to offer a range of services such as our "supply and erect" and "supply only" services. These are available at highly competitive prices quoted to suit your budget and scope.
Using only the highest quality materials from across the country, our kit form option has seen great use with agricultural, industrial and commercial businesses such as steel erectors, construction companies and builders. Our fully trained staff take care of everything. From planning and ground works to construction and finishing, for more information, call West Buildings at Harry West (Prees) Ltd.
Our building division has helped construct:
Building restoration
Crown green bowling shelters
Curved Dutch barns
Dog kennels
Garages
Horse shelters
Silage clamps
Social clubs
We can include a range of features, including:
Access doors
Mezzanine floors
Pre-stressed concrete panels
Roller shutters
Sliding doors
Windows
For more information on our framed buildings, call Harry West (Prees) Ltd on 01948 840465.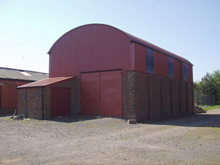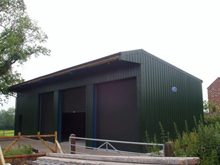 Harry West (Prees) Serves The Following Areas