Time and date
CONSTRUCTION DIRECTORY
About Strongman Tools Ltd
Strongman Tools manufacture a range of Maintenance and Car Parking Lifts, including 4 Post & 2 Post Mechanics Lifts, 4 Post and Single Post Parking Lifts, together with our popular Tamar and Clifton Mobile Scissor Car Lifts. They have been specifically designed for use in the Home Garages and Smaller Professional Workshops and all employ Single Phase (240V) Power.
Nobody offers a choice of 4 Post sizes better suited to home users, including the Glenfinnan Lift, the most compact car storage lift on the market which has become the solution to Classic Car Storage for users in the UK and abroad. Our use of high grade steel, excellent quality welds and unique features associated with our designs caught the attention of professional users and now Strongman Lifts are also popular with the Independent Motor Trade. Our Lifts are available on a collection, delivery or fully installed basis and are all CE Certified backed up with independent testing which ensures the most stringent health and safety standards.
Our showroom is located in Leamington Spa and we are open, weekdays 09:00 - 17:00.
Instantly Double Your Parking Space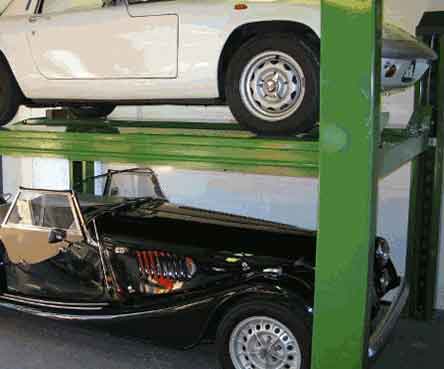 Make best use of existing space
Securely Store Your Cars
Your pride and joy's should not be left to the elements or prying eyes! Avoid the hassle of planning and additional building work. Strongman Parking Lifts will quickly, easily and safely make the best use of your existing garage / workshop / out-building etc. Offering instant storage as well as the facility to do as much, or as little, maintenance on the vehicles as you need.
The ability to squeeze two cars into the space originally designed for one provides peace of mind and often provides the preferred solution in areas where on street parking is restricted.
Solutions to Suit Your Garage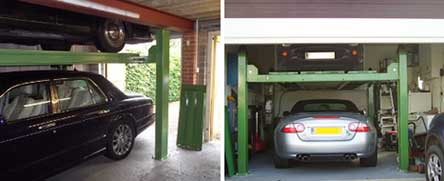 4 Post Lifts are the cheapest solution. They require a solid, level, reinforced, concrete base but not to the same specifications as a Single Post Lift, for example. 4 Posts also double up as a stable and secure maintenance platform.
Single Post lifts offer an excellent storage solution, with minimum profile to ensure the best fit where height is a determining factor.
Buy with confidence
Strongman Tools have been supplying Parking and Vehicle Storage equipment specifically designed for domestic customers, for years. We have more experience than any other company to help you select the right solution for your home. All our lifts and ramps are designed by us, they have passed the same stringent testing required for equipment used in Commercial Workshops. We understand that our customers may have no experience whatsover with a Car Lift and will take the time to explain the advantages, and any potential drawbacks of the products which your particular circumstances may present. Our offices in Leamington Spa include full demonstration facilities. Should you wish to collect the lift and install it yourself, we encourage you to do so and provide clear instructions and helpful videos.... on the other hand, if you prefer to let the professionals deliver, install and commission your new lift then our engineers will provide you with a first class service.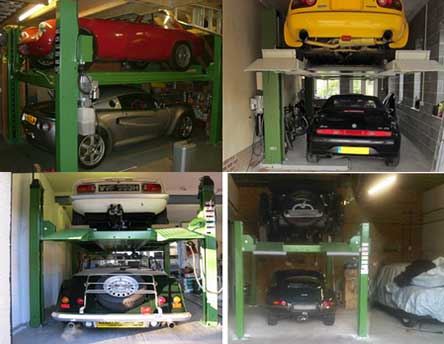 Worried about oil leaks?
Full length drip trays, which will ensure that the car which lives underneath is protected from anything which may be deposited from the stored vehicle, are supplied with all Strongman Parking Lifts.
Strongman Tools Ltd Serves The Following Areas
Find Strongman Tools Ltd in