Time and date
CONSTRUCTION DIRECTORY
Ron Robinson Roofing

Contact Details
Address
Unit 4
Roe House Farm
Northumberland
North East
NE43 7HP
England UK
About Ron Robinson Roofing
In our time, we have completed a wide range of domestic and commercial flat roof waterproofing contracts such as garages, extensions, wind turbine bases and, more recently, green roofs, all over Northumberland, Cumbria, Durham and, occasionally, further from home, in North Yorkshire or the Scottish borders.
One size does not fit all is our philosophy as regards flat-roof waterproofing. We have a range of products from different suppliers, and we can look at each contract individually to decide which product would be the most suitable for the situation, whether it be solvent free and odourless, or even waterproofing an existing surface.
The flat-roofing systems we use have a long, proven track record of reliability and have been used extensively, both nationally and internationally, for decades, carrying a guarantee of up to 40 years.
Guaranteed customer satisfactionWhy choose our roofing systems?
Up to 40 years' guarantee
Professional roof installation
Flexible and durable flat roofs
Quality roofing materials
Maintenance-free roofs
Impervious to weather

Attractive finish
Increases property value
Competitive prices
Green-roofing systems
Solvent-free roofs
Free advice and no-obligation surveys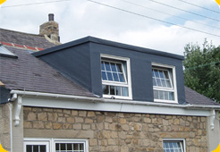 Roofers specialising in long-term waterproofing solutions
We utilise the Topseal GRP, Kemper System and Protan single-ply roofing systems and materials to provide our clients with the most durable, cost-effective and high-quality roofing systems available. We have an extensive range of roofing products on hand from different suppliers, enabling us to choose which roofing systems and materials best suit our clients' individual requirements.
Roof Installations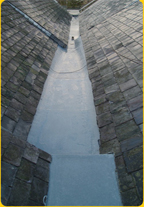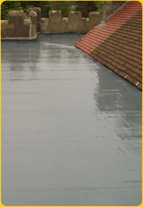 One of our recent jobs. Topseal GRP with simulated lead rolls, and an excellent job on the Cedar Cladding by WDL Property Services Limited. We are very pleased with this one!

Posted by Ron Robinson Roofing on Wednesday, 7 October 2015
Topseal GRP system
The Topseal GRP waterproofing system provides a complete solution to flat-roofing problems.
GRP stands for glass reinforced polyester, these being the main components of the roofing system. All complete Topseal roof installations carry a guarantee of up to 40 years, with a life expectancy well in excess of this. We have recently started using a new type of Topseal, which allows us to install a waterproof coating over the existing surface, reducing the need for removal and, as a result, reducing the cost.
Kemper System
Kemper System Ltd produce a range of polyester and polyurethane resins, which, when applied with a polyester fleece and the correct primer, can be used on a wide range of surfaces and varying situations.
The specially developed primers allow the roofing systems to be bonded to a wide range of substrates, which enables the waterproofing of complicated and difficult areas. This also allows projects to be completed with the minimum of disruption and risk to the interior of the building.
Protan single-ply
Protan single-ply membrane is quick and easy to install. It can be installed in a variety of temperatures and weather conditions, which means a bigger window of opportunity for installation. Protan single-ply membranes are easily adaptable, so they can be used for flat, curved or pitched areas.
Reviews & Testimonials for Ron Robinson Roofing

September 01, 2017
A professional job tidily carried out. Customer in Hexham
Testimonial by
Flat roof extension

June 27, 2017
These guys did a fantastic job on my roof. Didn't have to wait long after booking before work started, the team were friendly and professional. Roof was completed to a high standard and in good time, it was worth paying to get the roof fixed properly rather than getting a cheap hack job done.

May 05, 2017
New flat roof
Difficult job, well finished. Customer in Stocksfield,
Testimonial by
Customer in Stocksfield
Ron Robinson Roofing.

5

out of

5

based on

3

ratings.
Gallery
Click to close
Products & Services
Waterproofing
We Cover Beverley, Bridlington, Bradford, Coxwold, Filey, Halifax, Harrogate, Haworth, Hebden Bridge, Helmsley, Hornsea, Hutton le Hole, Kingston Upo
We cover Bishop Auckland, Darlington, Durham, Hartlepool, Gateshead, Middleton-in-Teesdale, Sunderland, Stockton-on-Tees, Washington
Flat Roofing
Roofing services Newcastle
Roofing services North England
Roofing services Yorkshire
Twitter Feed

Facebook Feed
Ron Robinson Roofing Serves The Following Areas
Find Ron Robinson Roofing in
Ron Robinson Roofing General Description
Flat roof waterproofing installations Northumberland, flat roof waterproofing solutions, roof waterproofing systems Northumberland, roof installation, Quality roofing materials, Green roofing systems, Solvent free roofs, Topseal GRP, flat roof installations, fibreglass roofing, glass fibre roofs