Time and date
CONSTRUCTION DIRECTORY
Lanten Metering Services Ltd

Contact Details
About Lanten Metering Services Ltd
Products & Services:
Heat Meter, Heat Meters, Energy Management, Energy Meter, Energy Meters, Smart Meter, Smart Meters, Community Heating, Community Heating Networks, District Heating, CHP, Combined Heat & Power.
Heat Meters for Community Housing Networks
Energy Management specialists, LanTen Metering Services Ltd provide open protocol Heat Meters to community housing networks. Our solutions are particularly suited to Landlords who want the flexibility to change their energy suppliers, to maximise on cost savings, without the need to change their installed equipment.
Our innovative, user-friendly, integrated energy measurement, billing and collection systems reduce the administrative burden and risk to Landlords, helping them to achieve a maximum ROI, as well as providing Tenants and Home Owners with a more effective way to manage and budget for their energy.
For Community Heating Networks in New Builds and Existing Properties
LanTen's solutions are suitable for both new-build housing developments, where energy is delivered via communal heating networks and for retrofit to existing properties and developments where Landlords may be experiencing inefficiencies in the measurement and payment for the delivery of energy.
Landlords are frequently exposed to mismatches between the cost of purchasing primary fuel and the recovery of these costs from Tenants. This can become acute in new developments where mandated private energy networks require the Landlord to assume considerably more financial risk e.g. constructing the energy supply, purchasing fuel feedstock and in loss of energy within the local distribution network.
LanTen's HeatPlus™ Heat Metering solutions are designed to help eradicate tariff payment shortfall, and to help Landlords to recover important cash flow in a manner completely consistent with Social Landlords' Charters. Our Heat Metering structure can also accommodate standing charge payments to cater for the non-tariff costs of operating our Heat Metering system.
LanTen Heat Meters reduce the administrative burden that payment and collection of energy places on Landlords, and provides invaluable support in a number of areas including:
Recovery of Energy Costs
Automated & Secure Billing Platform
Flexible Payment Options
Debt Recovery
Simple retrofit with wireless technology
HeatPlus™ Heat Meter technology is suitable for a range of applications including:
Community heating
Domestic hot water
Electricity
Natural gas
Domestic cold water
Harvested rainwater / grey water
Renewable electricity
HeatPlus™ is ISO accredited, meets the requirements for The Code for Sustainable Homes Energy Display Devices and is suitable for new residential properties or retrofit into existing flats, houses or whole developments.
The Benefits of LanTen Heat Metering to Tenants
The LanTen Heat Metering solution gives Tenants accurate and timely information about their energy usage. Each Tenant has a HeatPlus Home Energy Monitor and Controller (HEC) installed within their property, displaying information relating to instantaneous cost, account balance, remaining days, historical consumption data and carbon emissions.
Topping Up Heat Meters
HeatPlus™ Heat Meters is designed to accommodate both monthly billing as well as pay-as-you-go modes and a number of payment options are available:
PayPoint (national network)
Direct debit
Card payment via Customer Services
Payment online
The LanTen "Friendly Credit" facility ensures that during any out of hour's period, including bank holidays and weekends, all services will remain live even with a depleted account.
To find out more about our cost effective, Energy Management and Heat Meter services, please call our Customer Services Team on 08454 707 222.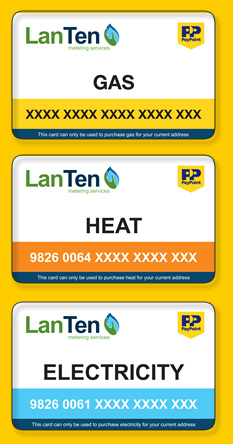 Lanten Metering Services Ltd Serves The Following Areas
Find Lanten Metering Services Ltd in