Time and date
CONSTRUCTION DIRECTORY
UK Pool Enclosures Limited

Contact Details
Address
20 Sheephouse
Farnham
GU9 8LR
About UK Pool Enclosures Limited
Swimming Pool Enclosures offer so many benefits to pool owners.
A Swimming Pool Enclosure can allow you to use your pool for more of the year, and save money on heating and maintenance.
Our Pool Enclosures start from as little as £3,995 (inclusive of VAT and Delivery).
There's the choice of both tracked and trackless swimming pool enclosures, available in a range of standard sizes.
Both the Tracked and Asymmetric Pool Enclosures are flexible modular designs which can be modified to custom pool dimensions.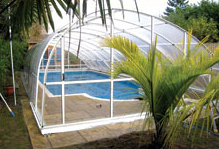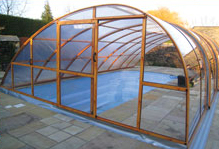 Swimming Pool Enclosures Save Money
Reduced pool heating costs, as well as less chemicals used by retaining heat and greatly reducing evaporation.
Great Value Pool Enclosures
The new generation of low profile pool enclosures offer exceptional value for money, as well as offering great heat retention.
A Pool Enclosure Secures Your Pool
Keep you pool safe and secure when you are away from home, and prevent children entering your pool unsupervised.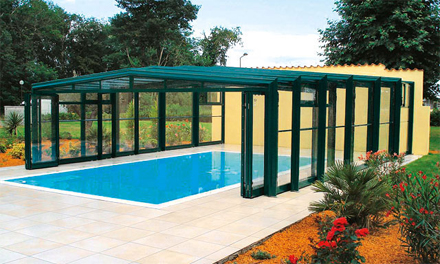 How does a pool enclosure actually save me money?
Let's start by saving energy - here's how
The main cause of heat loss from a swimming pool during the day is through evaporation. This is also accentuated if there is a breeze, as this speeds up the process of removing warm air above the pool water (that you've spent money heating) and replacing it with cool air.


Don't forget the cost of chemicals
The pool enclosure reduces evaporation from your pool, which means that your chemicals maintain better balance, and water levels remain more constant.


Maintenance is money
Whether you use a maintenance company or do it yourself, having a pool enclosure reduces your pool maintenance time. By keeping your swimming pool enclosure on when not in use, your pool remains free from leaves, bugs and other unwanted debris, and consequently your filter stays cleaner.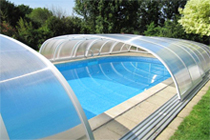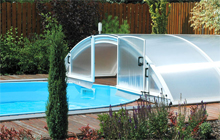 Also thinking longer term
A Pool Enclosure can also help in a more general way by protecting your swimming pool from the elements, to give your pool a longer life.


Heat your pool, not the air
Go for a low profile Pool Enclosure. You can still swim with the pool enclosure on, but you've got the added benefit that you're not trying to heat a huge airspace above your pool.


Saving more than money
Not only is this all money saving great news for you, but it's also better for the environment.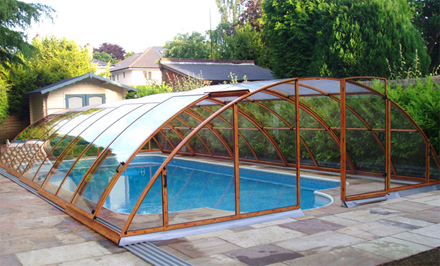 UK Pool Enclosures Limited Serves The Following Areas
Find UK Pool Enclosures Limited in