Time and date
CONSTRUCTION DIRECTORY
DDP Specialist Coatings

Contact Details
Address
Unit 4 Pond Chase
Folly Lane
Hockley
SS5 4SR
About DDP Specialist Coatings
DDP Specialist Coatings offer a complete refurbishment package for Commercial Roofing and Cladding. Having partnered with a leading supplier, we offer the most effective UV and corrosion resistant coatings available. All of the products we use are tried and tested and are proven time and time again to combat the most common problems with external cladding and sheeting. All products used are silicone based and offer a long term guarantee.
Having become an Approved user of these products, we are able to offer complete repair solutions for cut edge corrosion of metal sheeting, full protective coating, joint sealing and re-coating of guttering, asbestos encapsulation and rooflight restoration.
If you are thinking that you need a new roof – Think again and talk to us! We can be the answer to your problems, both practically and financially! Why consider overlaying your roof and adding additional weight to it? Why consider replacing your roof and causing enormous disruption and suffering extensive cost?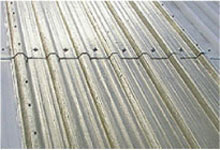 Not to mention the many environmental disadvantages to replacing a profile roof.
The answer is right here!
The products that we use are unaffected by sunlight and UV radiation, remaining permanently flexible.
Our coating system repels water and also allows trapped surface water vapour to vent.
Silicone based products are thermally stable from -100 to + 250°C.
DELCOTE HPG
Gutter Refurbishment DELCOTE® HPG is an elastomeric membrane, with vapour breathable properties suitable for application as a protective weatherproofing coating to completely coat the gutter surface. It has excellent elastic and flexible properties to withstand normal surface movements and is unaffected by UV or extremes of weather and temperature.
NATURAL ANTI-CORROSION
DELCOTE® forms a tenacious, primerless bond to the surface of steel substrate that prevents further oxidation.
EDGE SEALING AND PROTECTION
SEAMSIL® is a unique flexible silicone remedial system developed by Delvemade Limited in conjunction with GE Silicones, part of the General Electric Company of America. The system, initially developed to solve the problem of cut edge corrosion on steel roofing has now become recognised as the most versatile and effective protection treatment in any situation where exposed metal is subjected to aggressive moisture conditions.
ROOF AND WALL CLADDING REFURBISHMENT
DELCOTE® is a silicone coating designed for re-coating roof and wall cladding substrate including masonry, concrete, asbestos cement, polyurethane foam and most painted or unpainted metals.
NATURAL WATERPROOFING
DELCOTE® repels surface water, promoting flow and discouraging the formation of ponding and standing water.
DELGLAZE
Delglaze is a high performance, high build, single component moisture curing aliphatic polyurethane coating that cures to provide a clear, tough membrane principally for the re-coating and sealing of aged and weathered GRP rooflights.
NATURAL UV RESISTANCE
UV makes coatings hard and brittle, limiting their ability to expand and contract resulting in loss of adhesion. DELCOTE® is completely and naturally resistant to sunlight and UV radiation, ensuring enduring flexibility and adhesion.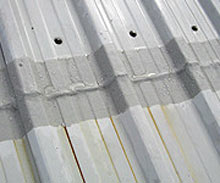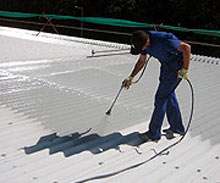 DDP Specialist Coatings Serves The Following Areas