Time and date
CONSTRUCTION DIRECTORY
SAS Shelters

Contact Details
Address
330-332 Selbourne Road
Luton
Bedfordshire
LU4 8NU
England UK
About SAS Shelters
SAS Shelters - Custom Built and Bespoke Shelters
At SAS Shelters we manufacture and supply a wide range of bespoke shelters, Awnings, canopies, street furniture and covered walkways. We offer the complete service from the supply and manufacture to installation, backed by years of industry knowledge and expertise.
Custom Built Shelters - Tailored to your needs
Our custom built shelters can be tailored to your individual requirements so you have the right product with a perfect fit for its intended purpose. As a family run business, we have over 50 years of experience in manufacturing and steel fabrication and have built up a reputation for delivering quality workmanship and practical solutions, all manufactured to Standard BS 5950-1990.
Over the years our product range has expanded to include a full range of bespoke shelters including cycle shelters, buggy shelters and smoking shelters, all built to be sustainable and long lasting.
Our full product portfolio also includes garden and patio awnings, canopies, sail shades, street furniture, bollards, security fencing, railings and much more.
We offer a variety of services to colleges and schools like parent waiting areas, playground shelters, school canopies and covered walkways, designed to protect children from rain and harmful UV rays.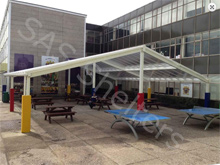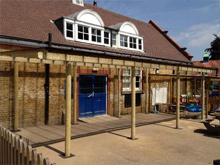 Shelters


Buggy Shelters
Smoking Shelters
Waiting & Teen Shelters
Trolley Shelters
Pay Machine Shelters
Wooden Shelters
Car Ports
Ticket Machines

Street Furniture

Cigarette Bins
Bollards
Posts
Benches
Seating
Bins
Cycle Storage
Cycle Shelters SAS Shelters offers a large range of cycle shelters, bike sheds and secure bicycle storage that can be supplied to suit any number of bikes and available space, depending on your needs.


Secure Cycle Storage Lockers For extra Cycle Security, we manufacture fully enclosed single and double cycle lockers.


Cycle Stands As part of our range of street furniture we offer durable, low maintenance cycle stands in many different colours and styles.
Walkways & Canopies
Pedestrian walkways are common in schools, hospitals, care homes and business places. Used to connect buildings the walkways can be designed to protect from all weathers depending on your needs.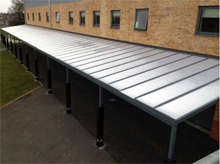 Shades
At SAS Shelters we offer a selection of playground and garden sail shades that are designed to keep you sheltered from harsh weather conditions and harmful UV rays. Tensile Fabric structures can completely alter the appearance and feel of a courtyard, play area or garden and can act as an attractive centre piece to brighten up any area. With a variety of colours and styles available, we can provide courtyard or garden sail shades designed to your needs and custom made to fit any space.
Awnings
Pub and Cafe Cannopies & Awnings There's nothing the British public love more than to sit outside a pub, restaurant or café and enjoy alfresco dining.


Patio Awnings We would all like to spend more time in the garden, out in the fresh air - whether it be enjoying a BBQ with friends & family, having a romantic candlelit meal or just relaxing after a hard day at work with a glass of wine or two.
Steel Security Fencing and Gates
At SAS Shelters, our family run firm has over 50 years of experience in steel fabrication and we have been producing quality steel security fencing for many years. High security fencing acts as a visual deterrent to unwanted intruders and makes a statement of intent. Curved steel security fencing is designed to stop intruders from climbing or scaling over the fence, which offers additional security and peace of mind that your belongings aren't at risk.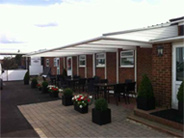 SAS Shelters Serves The Following Areas