Time and date
CONSTRUCTION DIRECTORY
Mark Collcutt Design

Contact Details
Address
Unit 20 Avondale Business Centre
Woodland Way
Kingswood
Bristol
BS15 1AW
England, UK
About Mark Collcutt Design
We believe that discussion and collaboration result in the best design solution.
We carefully listen to clients' needs and produce working environments that both project the desired image and significantly contribute to the well-being of the people who use them.
Our interiors and designs are appropriately contemporary in appearance, blending materials and styles to produce innovative solutions to traditional issues.
We have full 3D CAD facilities and can provide pictorial, working drawings and detailed specifications for client approval.
Our own workshops can fabricate and install all designs, but we are happy to produce designs for a tender process, or your preferred fabricator.
Mark Collcutt's background and interests lie in engineering and mathematics, achieving an honours degree in Mechanical Engineering. He worked for many years as a Special Effects Designer in the film industry, initially for the BBC Visual Effects Department and later for Artem Ltd, an independent effects company based in West London. Mark Collcutt Design was setup in 1998.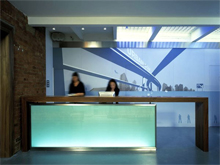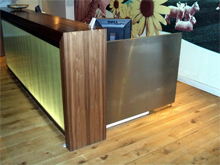 Receptions
Our designs are carefully tailored to produce receptions that strike a balance between aesthetics and the need to address the practical requirements of running an efficient office.
All aspects can be coordinated to ensure that the appropriate image is projected, in what is the first impression visitors will get.
We have a large library of production furniture and special products to complete your interior - from lighting to corporate art.
Bars
We have wide experience in bar design, including all back bar work stations and display areas.
In an increasingly competitive sector, bars and restaurants are often required to function in different ways throughout the working day.
Typically, a bar in a busy metropolitan area will also be required to function as a cafe. We can design working environments that strike a balance between different trading requirements, coordinating lighting, seating and flooring.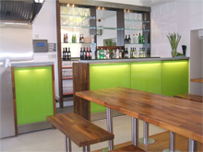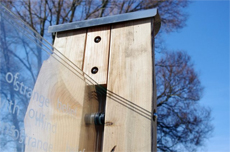 Associated Products
We have a rich background in designing and manufacturing special one-off items, so please feel free to enquire - however strange your request might be!
Case Study
All projects are CAD drawn at least to a working drawing level in 2D and 3D views for client approval. However, we usually render the same 3D drawings for a more complete image of the finished design. This was the case here for a reception desk for Dignity plc.
The desk is predominantly oak with LED edge lit glazed front panelling and a toughened glass signing surface, which is UV bonded to machined stainless steel supports. Cabling and power/data modules are concealed in the front panel for an uncluttered staff area. Thoughtfully positioned cableports and mobile pedestals allow the work environment to be flexible, assisting a clean desk policy.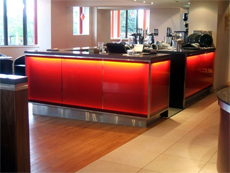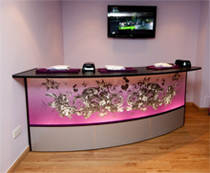 Mark Collcutt Design Serves The Following Areas
Find Mark Collcutt Design in