Time and date
CONSTRUCTION DIRECTORY
Fairoaks Framing Co Ltd

Contact Details
Address
Lodge Farm
Southolt Road
Woodbridge
Suffolk
IP13 7HH
England UK
About Fairoaks Framing Co Ltd
About Us
Growing up in rural Suffolk, the founder of Fairoaks was privileged to witness first hand, some of the majestic oak frame buildings that enrich our landscape. Sadly, dilapidated farm and commercial oak buildings, a treasure lost to generations to come, were also a common sight.
It was the latter which inspired the founder to restore and recreate these structures which embody so much that has been lost to the economic necessity of modern building techniques. Having assembled a small team of like-minded carpenters, each committed to the highest standards of traditional craftsmanship, Fairoaks was born.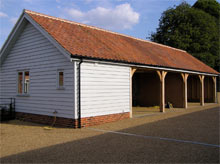 Today Fairoaks continues to promote the highest standards of carpentry through its apprenticeship scheme.
Everything we do is founded upon a genuine passion for the materials we use and the buildings we create. We hope we can share that passion with you.
Barns and Stables
In addition to offering a design and build service, we are able to undertake building restoration and modification in compliance with the often stringent requirements of building conservation. We are sensitive to the integrity of historic buildings and where required, we will attempt to source old timbers.
Cart Lodges and Garages
We have designed and built both single (less than 4m ridge height) and two storey (over 5m) garages and cart lodges in a variety of styles. None of the components are mass produced and we stipulate the same standards of timber quality and construction methods as for other types of building.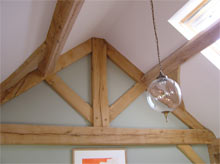 Garden Buildings
Garden Rooms and Extensions
If you are looking to extend your house in keeping with the current style, then a Garden Room may be the solution.


Conservatories
One of the many advantages of oak is its ability to blend in with and enhance both traditional and modern buildings.


Pagodas, Gazebos and Shelters
Ranging from simple open-frame to partially/fully enclosed, these small garden structures can transform the appearance of even a modest garden.
Oak beams and supplies
Fairoaks Timber carry a wide stock of oaks beams and supplies that can help you with your commercial or self build project. As oak is such a strong a durable material it can be used in many ways to improve the look and strength of anything from a cart lodge to a planter.
Construction Grade Oak
Construction grade oak is usually supplied as fresh cut. That means that it has been cut direct from the tree. This is also referred to as 'Green' or 'Wet'. It is normal for some movement to occur in the material as it dries out and naturally occurring cracks can develop. This typical and may not mean there is any weakening of the material.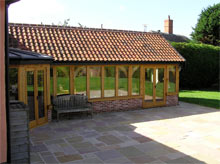 Fairoaks Framing Co Ltd Serves The Following Areas
Find Fairoaks Framing Co Ltd in