Time and date
CONSTRUCTION DIRECTORY
Rubbaroof Ltd

Contact Details
Contact
Mr Adrian Griffin
Address
Unit 3
Dutch Farm Field Buildings
Chilmark
Salisbury
SP3 6LD
Monday
08:00 am-06:00 pm
Monday
Tuesday
Wednesday
Thursday
Friday
Saturday
Closed
Sunday
Closed
Other Dates
Open 24 hours per day for online ordering
About Rubbaroof Ltd
Rubba-Roof is an economical, DIY and professional solution for the maintenance and repair of leaking roofs that have cracking, splits or other surface deterioration and failures.
It is liquid rubber roofing which can be applied directly onto nearly all surfaces (except Polypropylene and Silicone), so there's no need to remove existing, failed materials. No disposal costs means you save time & money!
Products
Primer
Compound
Fleece
Accessories
Rain Patch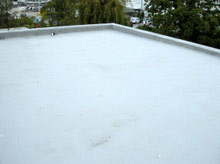 Rubba-Roof - the Ultimate Long Term Solution For Leaking Roof Repairs
Rubba-Roof - is a solvent free, 100% solids, seamless, single ply, cold-applied liquid membrane coating, which brings you state-of-the-art waterproofing technology.
Rubba-Roof - is a liquid applied roofing system that you simply roll-on. Our waterproof roof coating cures by reaction with atmospheric moisture to produce a flexible & elastomeric membrane with good adhesion to almost any roof surface & sub-structure.
Rubba-Roof - doesn't contain any carcinogenic tar derivatives and does not need any heating prior to application, meaning minimal hazard during use. Being liquid applied the material allows a completely seamless application over an entire area, even if the structure is complex, undulating or subject to movement.
Rubba-Roof - waterproof rubber roof coating is easy to apply and dries to create a tough, rubbery waterproof surface. Rubba-Roof is equally effective for the protection and maintenance of low-pitched and flat roofs and is ideal for use on residential, commercial, industrial & agricultural properties alike.
Why Use Liquid Rubber Roof?
Roof maintenance and having to repair leaking flat roofs are among the most common and expensive worries for home owners. The great British weather - particularly the floods and storms of recent years - is one of the biggest culprits. But general wear, tear and material failure affect all roofs over a period of time.
Rubba-Roof is 100% waterproof
Rubba-Roof cures to form a rubber-like, 100% waterproof membrane with no joints or seams. The system can be reinforced to give full tanking and detailing around skylights, gulleys, upstands and gutters. The resulting watertight membrane is flexible and withstands roof-timber movement, expansion and contraction within temperatures between -30°C to +120°C and extremely heavy rainfall, snow, hail etc.
Rubba-Roof is a simple and economical way to fix leaks in failed felt roofs, flat roofs, garage roofs, caravan roofs and many more.
Rubba-Roof is Environmentally Friendly
Rubba-Roof is solvent-free, non carcinogenic & environmentally friendly, making it ideal for use as the waterproofing layer in Green Roof designs. Rubba-Roof contains no tars or bitumens and is made in the UK to ISO 9001 protocols.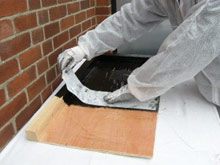 Liquid Roof Coatings
Over the last thirty years there have been many developments in the range of products available for the surfacing of flat and low pitched roofs. The technology that has been predominant is the advance of Polyurethane chemistry: the result is the potential for a unique marriage of high adhesion with extreme flexibility.
A polyurethane resin formulation contains long chain polymer molecules that link together 'end to end'; unlike epoxy resins whose molecules will 'cross link' with adjacent molecules lying parallel.
So polyurethane resin compounds can be designed so that when put under extension or distortion the linkage means that the matrix will constantly return to its original formation; this is an 'elastomeric recovery'.
High quality Polyurethane Roof Coatings can often be stretched by 400% when cured and yet still return to their original status.
Rain Patch
Rain-Patch is an emergency repair kit which will seal and stop leaks on just about any surface† giving an economical and effective waterproofing solution designed to last until a permanent reinstatement can be achieved.
The Rain-Patch kit contains all you need to repair up to 1m² of cracks, splits and holes. This new and improved formula can be applied in all weathers between -5°C and +50°C. It cures fast!! It even works in the pouring rain. Rain-Patch is clear and easy to apply – it is not a sticky black bitumastic substance.
Contact us by calling 0800 368 7343 or send us an email to sales@rubbaroof.com.
Rubbaroof Ltd Serves The Following Areas