Time and date
CONSTRUCTION DIRECTORY
Ladder Limb Ltd

Contact Details
Address
Balneil Farm
Newton Stewart
Wigtownshire
DG8 0AH
Scotland
About Ladder Limb Ltd
LadderLimb Ladder Accessories - Innovative Ladder Tool Holder and Ladder Safety Device
LadderLimb™ is a revolutionary ladder tool holder that fits into the hollow rung of most ladders allowing paint cans, tool bags, and power tools to be held securely at heights. It's your third hand on a ladder and a breakthrough in ladder safety that's taking Britain and the US by storm! Featured on TV and radio, LadderLimb™ was named winner of the Best Tool Product at Totally DIY and Totally Tools 2013 and was 2012 winner of DIY Week's Gold Award for UK hand tool of the Year. The LadderLimb™ is the most exciting new ladder accessory to hit the market in years. Simple to use, it makes a range of up-ladder tasks so much easier and safer.
LadderLimb is one of the most versatile ladder accessories available as it can be used with a wide range of modern ladders and can be positioned on the left or right side of a ladder at any height. The rubber coated limb secures it in place and the top build quality means it is suitable for DIY or trade use. Read our testimonials to see why everyone is talking about LadderLimb ladder safety devices.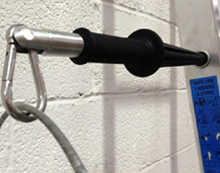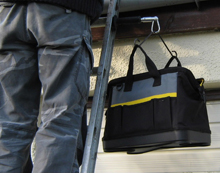 The Product
The award-winning ladder safety device that's taking the UK by storm! The LadderLimb™ is a simple, easy-to-use device which fits effortlessly into any of the hollowed rungs at either the left or right hand side of a ladder and at any height. The tapered, rubberised 'limb' of the LadderLimb fits snugly into the ladder, holding whatever is attached to it securely in place. And, when you wish to work at another height, the LadderLimb™ can be easily and effortlessly withdrawn and placed into another rung. The handle of your bucket, tool bag or paint tin is clipped onto the sprung clasp at the end of the hand grip.
LadderLimb™ allows you to work with three points of contact making it simpler and safer to work at heights. Because the LadderLimb™ fits into the left or right hand ladder rungs, it doesn't matter whether you are left or right handed. The versatile LadderLimb™ makes so many tasks so much easier, whether it's cleaning out gutters, washing the caravan, pointing or repainting the house, cleaning your windows or pruning trees and bushes... your customers will wonder how they ever managed without one!
LadderLimb's tapered rubberised 'limb' fits most modern ladders and some stepladders and is a worthwhile step towards making so many up-ladder tasks safer and easier to do. A breakthrough in ladder safety, LadderLimb™ was named the Best Tool Product at Totally DIY/Totally Tools 2013 and and in 2012 was the Winner of DIY Week's Gold Award for UK Hand Tool of the Year. LadderLimb™ has also been featured on TV and Radio in the UK and is now also on sale in the United States.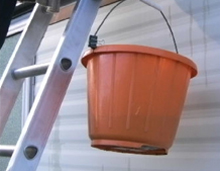 Buy LadderLimb™ online today!
The LadderLimb™ makes a whole range of tasks so much easier and safer to carry out when working up ladders. It saves time climbing up and down to fetch tools as tool bags can be secured to the ladder using this innovative and simple product. The LadderLimb™ is perfect for a whole range of tasks involving ladders including: Painting, Repointing, Cleaning out gutters, Cleaning windows, Repairing roofs, Washing the caravan and Pruning trees.
Because the LadderLimb™ saves time and increases up-ladder safety, it's also becoming an important accessory for tradespeople and engineers regularly working up ladders such as telecoms engineers, burglar alarm installers, roofers, painters and decorators, builders and professional window cleaners! Click
here
to buy yours online today! All direct debit and credit cards accepted. Shipping to UK only. For orders outside the UK, please contact us.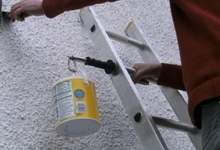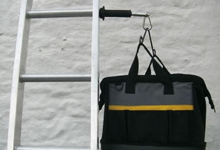 Gallery
Click to close
Videos
Products & Services
Twitter Feed

Facebook Feed
Ladder Limb Ltd Serves The Following Areas
Ladder Limb Ltd General Description
ladder parts ladder accessories ladder attachments ladder limb ladders ladder hooks ladder hooks painting accessories hand tools ladder safety