Time and date
CONSTRUCTION DIRECTORY
Interiors Inc Ltd

Contact Details
Contact
Mr Colin Humphries
Address
Pinden End Farm
Pinden
Dartford
Kent
DA2 8EA
South East
About Interiors Inc Ltd
Here at Interiors Inc we specialise in commercial and retail fit out, catering for all your needs within this complex arena. In essence we care for you and your project. From ceilings to floors, walls to furniture and everything in between, we can supply, deliver, install and manage the whole process of the build, making the experience as smooth and efficient as possible. Alternatively we can focus on a detailed section of the development should that suit your requirements.
We have the ability to design and build your scheme, whether it be space planning prior to an office fit out, electrical loadings and lighting design or even dealing with local authority town and country and building control permission; we have it covered. Our experience within this element of the works often involves dealing with landlord or centre management approval which is just all part of the service.
Our founding directors have a combined experience of over 40 years within the specialist field of interior fit out, gathered from architectural, electrical engineering, contract management, design and building disciplines ensuring you always have the right person for your build.
We have worked successfully with some of the UK's leading hotel and retail chains building long-lasting relationships based upon high quality work and value. Our team have completed fit-out schemes with some high profile public vendors such as race courses, where understanding the needs and idiosyncrasies of these specialised clients has allowed long-standing and mutually rewarding connections.
Retail Fit Out
From concept drawings to handover of your completed build, Interiors Inc is with you all the way. With a single point of contact we will manage your scheme to completion and be there for you throughout, catering for all your needs.
Hotel Fit Out
Working in live buildings is a very different arena to a traditional building site, and understanding the way a building functions when occupied is key to delivering a build and ensuring continuity of business. Experience with the UK's leading hoteliers and high profile hotels has provided us with the skill necessary to achieve quality builds within the constraints of this often difficult building environment.
Drawing & Plans
All design projects will inevitably start with a drawing and whether these are concept art or full working plans, these documents often form the basis of the whole construction procedure and idea.
Commercial Relocation
The headache of moving business location can be overwhelming - organising vehicles, packing, space planning the new office, considerations for data and power and of course continuity of business.
Electrical and Data Services
Interiors Inc can cater for all your electrical and data services needs; essentially we can provide anything within this arena of fit-out works that modern businesses demand.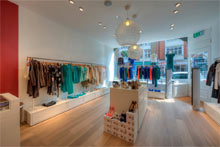 Interiors Inc Ltd Serves The Following Areas