Time and date
CONSTRUCTION DIRECTORY
Finlog UK

Contact Details
Address
Frisby Lakes
Mowbray 3TL
Hoby Rd
Hertfordshire
LE14 3TL
England
About Finlog UK
Robert Sheridan has been involved in the log building industry for over 20 years. He established Finlog in the 1990s to bring a quality to the UK he thought was lacking.
Established 1999 and gaining a growing reputation ever since
Only UK company with their own Finnish factory
Endless guarantee available
Family business with offices in the North and South
We can carry out complete builds or part builds
Designers of the original twin ridge transportable log building
Log sizes from 70mm right up to 350mm
Square or round log
Hand scribed logs now available
Full planning, building regulation/warrant service
Over 200 buildings in the UK now built
More experience than any other UK company
Expert witness advice given
We take on contracts worldwide, as far away as Tahiti and Dubai
All buildings featured in our testimonial page are genuine and many can be visited by appointment
Log Cabins
The term log cabin means different things to different people. Finlog can supply and erect any log cabin you require. This page shows a variety of our buildings down the right hand side.
Our cabins can be made from 70mm to 140mm solid flat log, 88mm to 240mm laminated flat log, 130mm laminated D log, 170mm to 210mm solid round log, 170mm to 350mm laminated round log and hand made round logs up to 350mm. Laminated logs are made up from more than one piece of timber, glued together to form the lamination, these logs are generally more resistant to movement and are more expensive.
The soft wood we use is all from the northern latitudes of Finland and Russia where they grow very slowly so the result is a very tightly grained log. This makes the timber very strong and resistant to the fungal attack that affects softwood.
Our log cabins will last longer and are less prone to warping and splitting that those log cabins that use timber from more southern countries ie. UK, North America, Latvia, Estonia, Belarus and more southern parts of Europe. This is why we can offer an endless guarantee – please ask for more details.
Log Cabins
Home Office Log Cabins
Log Houses
Mobile Log Homes
Garden Buildings
Log Chalets
Log Workshops / Garages
Log Leisure Buildings
Farm & Commercial Log Buildings
Log cabins can be made with one room or many rooms on one floor or with multi-floors and split levels. Just use your imagination! Add an internal garage, sauna, gable roof window or a cavernous entertainment deck for all those cabin warming parties!
Over the years Finlog have supplied cabins for many different uses such as log homes, log mobile homes, holiday homes, pool houses, garden studios, home offices, farm shops, log cafes and outdoor centres. Whatever the use, Finlog will always give you maximum value for money and the best log cabins available.
Browse Our Catalogues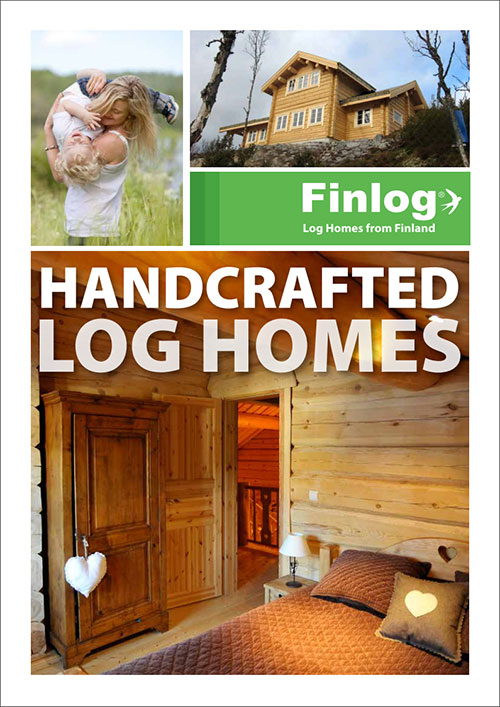 Reviews & Testimonials for Finlog UK

February 16, 2016
Dear Finlog,

Like the original build some 5/6 years ago your latest weatherproofing of my cabin has been carried out with both enthusiasm and attention to detail. It is so great to find such a reliable company that can be totally trusted and that gives really good value for money.

Thanks again and see you next time.

AJ. Hampshire.
Testimonial by
AJ. Hampshire.

December 11, 2015
I would like to thank this team for their excellent dedication to the job of building our dream home. Everything we hope for has been realised and more. Right from your introduction to your designer, through the building warrent and onto the finishing off, we could not be more pleased.
Testimonial by
Mr. Lister, Scotland

November 14, 2015
I contacted Finlog from their website late one night after having been let down at the last moment by another company. I was very impressed to find an answering email on my computor by 9am the next morning.

They proved to be extremely helpful both initially and in doing their best to meet my urgent build. They were extremely friendly and proffessional in establishing the build from start to finish. They also came out to check the building a year or so later for me.

Now four years later the log cabin is as good as the first day - warm, dry and comfortable. It has been a wonderful home for my mothers last few years and now graces our garden as extra guest accomodation.

Joyce
Finlog UK.

5

out of

5

based on

3

ratings.
Gallery
Click to close
News
---
Finally, after years of planning, our logs arrive on site for a mega build on a private estate in Scotland. This will be one of our biggest builds ever and all in hand scribed solid logs. The heaviest log weighs nearly half a ton! We have been looking forward to this for a long time and I am really looking forward to getting the cranes lifting, the guys comfortable and the client impressed. Start date is mid January if the weather is kind. Keep an eye on the progress here on the Finlog Facebook page. In the meantime we we'll keep loggin on!!
Finlog UK Serves The Following Areas
Finlog UK General Description
bespoke log homes hertfordshire, bespoke log homes barnet, finnish log homes barnet, finnish log homes hertfordshire, log chalets herts, bespoke log chalet hertfordshirelog homes, finnish log cabins for sale, summer houses, pool enclosures, log cabins,hut