Time and date
CONSTRUCTION DIRECTORY
DSM Energy Control Ltd

Contact Details
Address
The Old School
High Street
Cambridge
Cambridgeshire
CB25 9JG
Eastern
About DSM Energy Control Ltd
solarcache – maximising your solar energy usage
solarcache is a clever device that monitors, then diverts any excess solar-generated electrical power into your immersion heater, giving you free stored hot water for when you need it. It can also divert the power into another heater, such as a storage heater.
It is also a comprehensive energy monitor that displays immediate information about how much power you are buying from your electricity supplier, and how much you are generating with your solar PV panels. All at your finger tips.

The inventor, Cambridge physicist Dr Peter Duffett-Smith, realised he was getting very little money back for the excess electricity his solar panels created – which is exported to the National Grid – whilst being charged much more for buying in electricity later in the day when he needed it.
With solarcache the excess power is stored in your hot water tank or heater so that it can be reclaimed when you want it. It is an intelligent and simple to install monitor that sits in your house. Saving you money and increasing the return on your investment in solar panels.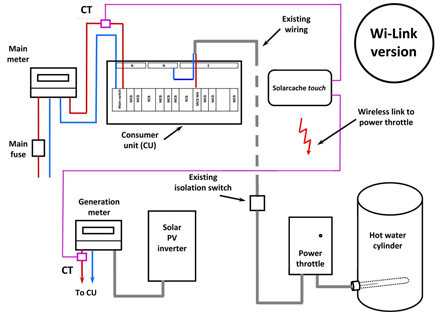 It works by constantly monitoring the electrical flow into your home – how much you are generating from solar PV panels and how much you are buying from your electricity supplier at that moment. And when you are generating more than you are using, solarcache redirects the electricity to your heater or battery.
But if you need the electricity elsewhere – say by putting the washing machine on – solarcache re-routes it back to your main electrical circuit.
And you can have a hot bath or shower at any time you wish, knowing you've maximised use of the Sun's rays, and saved money!
solarcache Fast Facts
It uses your excess solar energy to heat your water or other heater, or to charge a battery.


It will also work with any micro generation energy – Solar PV, wind or hydro.


It diverts only the surplus energy and no more.


The two modular units – the solarcache controller and separate power throttle – are easily installed by an electrician inside your house. The controller can be placed where you can see it and use it conveniently.


It can be installed at the same time as your Solar PV panels or it can be fitted afterwards.


It uses your existing immersion heater and needs no other changes.


It works with automatic Economy 7 heating.

Fit it and forget;
It'll do all the work for you, if you want, but it will also give lots of data so you can plan your usage:
it shows how much you have saved today and what you are using now
it shows how much your solar PV panels are generating.
You can display you energy usage over the past 28 days with a touch of a button.
It has a bright colour display and a touch screen, making it easy to read and use
All for a one off cost for supply and fit.
How solarcache works
solarcache measures how much power is flowing through your electricity meter, and in which direction. Only when you are exporting more than 50 Watts does it redirect the power through to the immersion heater. It constantly adjusts so that as your electrical appliances are turned off and on, the minimum power is exported to the National Grid.
Calling Solar PV installers or distributors!
Would you like to include solarcache as part of your offering?

We have a growing group of Solar PV installers and distributors who are selling and fitting solarcache devices across the UK – either as a new install or retrofit.
DSM Energy Control Ltd Serves The Following Areas
Find DSM Energy Control Ltd in