Time and date
CONSTRUCTION DIRECTORY
Arthur Hudson Site Engineers Ltd

Contact Details
Contact
Mrs Jane Fairhurst
Address
The Cart Shed
Low Street
Newark
Nottinghamshire
NG23 7NL
England UK
About Arthur Hudson Site Engineers Ltd
Topographical Surveyors Land Surveyors covering Newark & Nottinghamshire
Arthur Hudson Limited are experienced site engineers specializing in the lining up of steel framed buildings. The company was formed by Nick Fairhurst and Allan Lickes and operates across the UK. They have more than 30 years experience in the steel erecting business. The directors have worked on some of the UK's largest projects including football/sports stadia, car parks, prestige office blocks, hospitals, warehousing and retail parks.
The company has invested in the latest equipment each engineer has a Leica Total Station, laptop & printer which enable them to carry out site surveys download the data to produce as built drawings on site.
Site Engineering
Using Total Stations we can carry out:
Site surveys of existing buildings to allow draughtsmen to design new extensions


Pre-start site survey of holding down bolts and concrete levels


Concrete cores to ensure all pockets and embedment plates are in the correct positions


Survey embedment plates which give all the dimensions required so fin plates can be cut to the right length, correctly positioned and welded to the embedment plate


Survey the erected steelwork for plumb, line & level and then supervise the repositioning if required to ensure that the steelwork is within the tolerances set out in the national steelwork specification.


Surveys for pre-cast concrete stairs, panels and edge trim


Provision of specialist on-site fabrication and welding crews that provide all equipment to modify the steel to conform to the latest drawings
Using the latest software we are able to plot the survey results directly on to DWG type drawings to produce accurate professional "as built drawings" that can then be submitted for handover to the main contractor.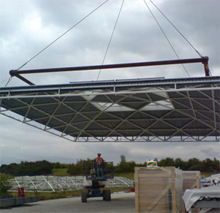 Surveying
Along with our comprehensive range of engineering services, we can also cater to your surveying needs and now offer the following:
Measured Steel Frame Surveys
As Built Site Surveys
Topographical Surveys
GPS Surveys
Field Area/Level Surveys
Setting Out Services
Our surveys are tailored to specific client requests, whether it is a single housing plot or a larger commercial development.
Using our latest Leica technology, a one man robotic total station, we can collect 3 dimensional coordinated data that we use to create 2D and 3D graphical representations of the area.
Surveys are produced using AutoCAD and N4CE. We can provide survey drawings in a wide range of software formats, including: DWG, DFX or PDF.
Testimonials
Mark Mulholland 03/10/12
"Arthur Hudson worked on Cannon Place in partnership with Watson Steel managing the installation of the substantial and complicated steel structure. Their approach to managing and coordinating the works was always in a professional and collaborative manner achieving high standards and excellent delivery. The project was successfully delivered whilst working 24/7 in a rail environment and under difficult logistical conditions.
The accuracy of Arthur Hudson's dimensional control and management were second to none. Nick Fairhurst led the site management, document control, quality and safety aspects and worked closely with Laing O'Rourke staff at all times."
Arthur Hudson Site Engineers Ltd Serves The Following Areas
Find Arthur Hudson Site Engineers Ltd in