Time and date
CONSTRUCTION DIRECTORY
Colour 4 U

Contact Details
Address
10 Regent Street
Lancashire
OL12 0HQ
England
About Colour 4 U
Colourcode
as the name suggests are time served specialists in the manufacture and installation of coloured windows, doors, conservatories and also coloured fascia and soffits. However this is only part of the story. Over time we have grown to encompass a wide range of other areas, some as a result of an obvious progression, for example we now manufacture and install coloured sun decking, coloured glass worktops, splashbacks and shower screens less so.
What has never changed throughout our growth is the commitment to quality and customer care. Every project from the smallest paint touch up pen to the largest conservatory and decking, is handled in the same way from initial enquiry through manufacturing/colouring to final inspection and installation.
We at
Colourcode
have an open door policy where our customers are more than welcome to visit our manufacturing/colouring facility and discuss any aspect of their project no matter how small or demanding.
Bring your home back to life with Colourcode maintenance free, coloured UPVC windows & doors.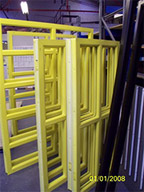 Colourcode
windows offer a unique blend of style and quality with technical expertise. Quality craftmanship and expert installations are assured with a 10 year guarantee. For unbeatable value for money call our friendly staff for a no obligation quote.
Coloured PVCu
Colourcode's key colour-coating product is LECHLER PLASTIGRIP a paint specifically developed for colour-coating plastic. This hi-tech paint is unique in that it provides a virtually permanent colour coat by bonding physically and chemically to the surface of the plastic, to a depth of up to 16 microns. Originally developed for coating plastics in the automotive and construction industries, it is now available in the UK through Colourcode and is revolutionising the painting of PVCu and other plastic finishes and products never been coated before.
Some of the products that can be coated are:
Any PVCu product or material
Foamex sheet to any colour, small or large quantities
MDF, Medite, Chip Board and Ply
Acrylic sheet in light box or just as coloured panel
GRP, think of all the variety of things that can be done to GRP with ease
Clear coat lacquer available in satin, gloss and high gloss
Application:
PVCu Windows, Doors and Conservatories
PLASTICOTE is tested weatherproof for 10 years, making it ideal for the colour-coating of windows, doors and conservatories in PVCu. A further benefit is the fact that it is UV stable and incredibly resistant to fading. Its adhesion is guaranteed for 10 years.


PVCu Cladding and Roofline Products
Many cladding and roofline products are made from the same PVCu used in windows. All the reasons why PLASTICOTE is a superb colour option for windows apply equally to roofline and cladding products.


Design and Construction
Architects can now design for colour, on products where previously colour choice was limited or non-existent. Curtain walling and cladding in PVCu are two prime examples. Any PVCu made product used in construction can now come with a permanently-bonded, non-fade colour option.


Industrial Units Refurbishment
Many of the older industrial units constructed of plastic coated steel now look very faded and tired – especially if (as in the beginning) they were coloured red, brown or black. Help is at hand with PLASTICOTE. Industrial units can be given a new lease of life with a colour coat that's weatherproof and fade proof, and that offers excellent one-coat coverage of 8 square metres per litre.


Colour 4 U Serves The Following Areas