Time and date
CONSTRUCTION DIRECTORY
A.R.C Ltd

Contact Details
Address
Church Lane
Wisbech
Cambridgeshire
PE13 5LG
England UK
About A.R.C Ltd
Why us?
We have built our reputation on providing the complete package to all users of Air Conditioning and Refrigeration and to clients interested in saving energy with Inverter Drives, Heat Recovery and renewable energy.
Our service offered is second to none and we pride ourselves on our speedy response times, reliability and professionalism. We have 25 years experience within the industry and fully qualified including the latest CITB F-Gas J11 qualification.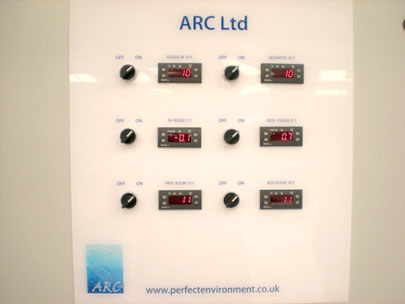 We are a certified Refcom member and are very conscious of environmental changes.
All our installations carry all the same warranties as the larger contractors but with our very efficient working practices and relatively low overheads we are very cost effective without any compromise to quality or reliability.
Our Health and Safety record is exemplary and our training schedules are always ongoing to ensure all our clients feel they have appointed true professionals and highly skilled tradesmen.
Services
Air Conditioning


Renewable Energy


Emergency Breakdown

Compressor Replacement


Refrigeration


Cold Store Construction
Air Conditioning
At ARC we specialise in all types of Air Conditioning applications encompassing all stages from site survey through to design, efficient "to deadline" installation and through to final commissioning.
Renewable Energy
Air Source heating – Air to Air heat pumps (ASHP) absorb heat from outside air to heat buildings, every unit of electricity used to drive the pump in turn produces 3-4 units of heat making them a highly efficient and cost effective way of heating a building with the added benefit of cooling buildings during the warm summer months. Eco-Friendly R410 refrigerant is eco-friendly and very highly efficient.
Emergency Breakdown
An area where ARC is able to excel at any time, with a vast stock of refrigerants, parts and spares, our experienced dedicated team are ready for a challenge day or night.
Compressor Replacement
Whether a compressor needs replacing in an emergency situation due to failure or replacement upgrade due to age or phase out ARC Ltd can handle it all at a very competitive price.
Refrigeration
Commercial refrigeration has been our business for 25 years and we provide the perfect environment for discerning clients in retail, wholesale, agriculture, horticulture, hotels and restaurants.
Cold Store Construction
For may years now we have been involved with the construction of insulated storage areas and hygienic production and packing facilities.
A.R.C Ltd Serves The Following Areas