Time and date
CONSTRUCTION DIRECTORY
The Glazing Shop

Contact Details
Address
Co / The Internet Shop LTD
Broad House, The Broadway
Old Hatfield
AL9 5BG
Hertfordshire
About The Glazing Shop
The Glazing Shop is your one stop online shop for all your Glazing Bar, Polycarbonate Sheeting and Roofing Kit needs. Our high quality aluminium glazing bar systems are manufactured in the UK to the highest standards. We also offer a complete timber glazing system as well as a full range of accessories and trims.
Whether you are looking for individual parts to make repairs to an existing roof, or for an entire roof system, we can supply what you are looking for.
All our products are available in a range of configurations to meet your needs. Use the navigation menu on the left to explore our catalogue. You can buy directly through our website (we offer secure online shopping). All our prices are inclusive of VAT.
Our range of Glazing Bars and Accessories are manufactured in the UK to high industry standards for ease of use and durability. They are highly regarded in the market place and have been so for over 30 years.
The newly launched heavy duty, steel reinforced Titan Lean To Roof Kit spans 5m unsupported. Designed for the professional builder who requires a roof system with a longer span, the Titan is suitable for both commercial and domestic roof applications. It accommodates both polycarbonate and glass roof sheets and is available in a large range of sizes and a selection of colours.
About Us
The Glazing Shop is part of the Internet Shop Ltd. We retail a wide range of high quality glazing bars, polycarbonate and roofing kits. We offer products which offer great value for money, and which have been manufactured in the UK to high technical standards.
We have inspected the premises of all our suppliers and are confident that the we offer the best quality products. We back up our claim by offering a 5 year guarantee (full details on request).
Multiwall Polycarbonate Sheeting
The Glazing Shop supplies multiwall polycarbonate sheeting in a range of standard lengths and widths to meet your needs. Our Twin Wall and 5-Wall structure polycarbonates are available in a choice of Clear, Opal or Bronze tint. Further specifications are also available on request.
Glazing Bars
Designed for the professional, our UK manufactured glazing bar range sets the standard for ease of use and durability. From our ever popular PVC capped Rafter Bar to our innovative Self Supporting Roof System and Low Pitch Roof system, The Glazing Shop has a product to suit most lean to roof applications.
Timber Glazing System
The Glazing Shop's timber supported roof products are a 'Sunwood' branded system of powdercoated aluminium and uPVC Conservatory Roof component parts for anyone building a timber conservatory. Whatever the design or specification, our Sunwood Timber Glazing System is suitable for glass or polycarbonate glazing and available in two finishes, white or brown.
Roofing Kits
The Glazing Shop Roofing Kits are professionally engineered using our Self Supporting Roof System, and are ideal for replacement roofing or for carports and canopies. They are designed for easy installation and long life; and supplied complete with assembly instructions, as well as the Wall Plate, Intermediate and End Bars (with PVCu Top Cap and Underclad) and a structural powdercoated aluminium Eaves Beam to complete your roofing project.
Vertex Air Vent System
The Glazing Shop is delighted to introduce The Vertex Ridge Level Ventilator which is a new, very cost effective and unobtrusive air vent system that has been invented to provide improved ventilation in conservatories. The Vertex is ideal for introducing ventilation into both new and retro fit conservatory roof applications and comes with a two year guarantee.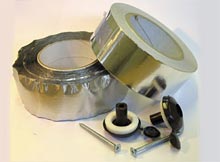 The Glazing Shop Serves The Following Areas